Description
Petit Verdot is a black grape variety, traditionally used in Bordeaux-style blends. Its name means "the little green one" in French, referring to difficulties in getting berries to develop and mature during cool climatic conditions.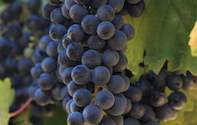 ©Glenneis Kriel
Petit Verdot Grapes in South Africa.
The parentage of the grape is uncertain, but it is speculated that it might be a descendent of the ancient Albanian variety, Balisca, or might have originated from a mutation between wild grapevine species.
Origins
While the exact origin of the variety is unknown, the variety seems to have been produced in Bordeaux in the southwest of France for longer than Cabernet Sauvignon.
The variety was once considered more important than Cabernet Sauvignon in Bordeaux, but its popularity declined over time due to ripening problems and production challenges. The phylloxera outbreak in the late 1800s and frost of 1956, also caused a significant downscale in the production of the variety in France.
Other Names
Synonyms include: Petit Verdau, Petit Verdot noir, Verdau, Bonton Blanc, Bouton, Carmelin, Heran, Lambrusquet noir, Verdot and Plant de Palus.
Production in South Africa
Welgemeend Wine Estate seems to be the first farm to have planted the Petit Verdot vines in 1975. The area under production in South Africa has been increasing steadily, following the importation of more promising French clones in the 1990s.
Production Regions
Plantings of Petit Verdot vines have grown significantly since the 1990s, with South Africa boosting nearly 750 ha under the variety in 2016. The variety is planted in all the wine production regions of the country, with Stellenbosch boosting the largest area under production, followed by Paarl and Robertson.
Growth and Ripening
The variety is a vigorous grower with a crawling habit. It has a high production potential, ranging between 20 t/ha to 28 t/ha. Grapes ripen late mid-season, from the end of February to middle-March.
Berries and Leaves
The variety produces small, round, thick-skinned berries that turn blue black when optimally ripe. Under unfavourable climatic conditions, the vines may produce green seedless grapes. The medium to large sized leaves have a dark green colour, oblong shape and five lobes.
Pests and Diseases
The variety is susceptible to downy mildew and powdery. It needs plenty of sunlight for optimal ripening and colour development.
Use
The number of single varietal Petit Verdot produced in South Africa, has been increasing steadily over the past decade. It is also used to make typical Bordeaux-style blends, with, for example, Cabernet Sauvignon, Merlot, Cabernet Franc or Malbec.
Taste
The variety generally produces berry and nut flavours. Intense fruity flavours are produced when vines are subjected to high temperatures during February. The wine is very dark with a blackish purplish rim.By
Glenneis Kriel