Description
The main red cultivar of Tuscany in Italy where the famous Chianti wines are produced. Sangiovese was the main ingredient in these wines, recognized by its round bottles in a straw covering.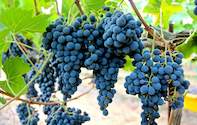 ©Vititec
Sangiovese grapes in South Africa.
It is an ancient grape variety first mentioned in Italian literature of 1590 and is now also planted in the US, Argentina and Australia with limited plantings in South Africa. Sangiovese is a very large 'family', as seen by the high intra-varietal phenotypical variations.
Origins
Italy
Other Names
Sangiovese has over ten clones and its 86 synonyms often refer to a specific clone. Many of these synonyms add another designation after the 'Sangiovese' for example 'dolce' or 'grosso'. It is also known as Brunello, Lambrusco and Chiantino, but in South Africa, only Sangiovese is used.
Production in South Africa
Sangiovese was thought to be introduced in South Africa in the 1970's, but records show (2016) oldest vineyard was planted on the farm Boplaas in 1982. In South Africa, just 69 ha Sangiovese is cultivated. Clones for producing high-quality wines were imported in 1991.
Production Regions
The majority of Sangiovese plantings are found in Stellenbosch (26ha), Swartland (19ha).
Growth and Ripening
Sangiovese is sensitive to terroir and can survive different soil types, but prefers light soils in warmer regions. It struggles to ripen in high altitude locations - over 1500ft. Overproduction (too many bunches per vine) can lead to grapes with high acidity and unripe tannins. Early budburst can lead to frost damage.
A high yield cultivar, Sangiovese might benefit from summer pruning and thinning of bunches to improve quality and reduce botrytis. It was a creeping tendency so trellising is needed to control growth. Sangiovese is a slow maturing grape and picked late in the harvest season.
Leaves and Berries
Leaves are medium in size, can be three- or five-lobed. Berries are medium and round to oval with high bloom on thin skins. (Bloom is waxy covering that protects against evaporation and spore penetration.) The bunch size of Sangiovese varies with the clones used.
Pests and Diseases
Sangiovese shows medium resistance to downy mildew and is more susceptible to powdery mildew and botrytis.
Use
In South Africa, Sangiovese is used to make dry red wines. The cultivar's high acidity and light colour lend it to blending but there is a growing trend to produce single varietal wines. Good blending partners can be Cabernet Sauvignon (structure and colour) and Merlot (softness).
Taste/Flavour
The best Sangiovese wines show good levels of acidity and tannic structure with flavour profiles of cherries and plums to leather and farmyard. Other flavours noted include tobacco, cinnamon and truffles and mulberries. Young Sangiovese can display fresh cherry, with some bitterness in the finish.By
Marinda Louw