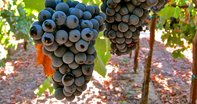 © Silvaspoons
Description
Souzão is a red wine variety from the Minho region in Northern Portugal typically used to make port-style wines (Duoro Valley) and red Vinho Verde ('young wines') in northern Portugal. Souzão is also grown in Australia, California, Spain and South Africa.
Origins
Portugal
Other Names
Souzão is also spelt 'Sousao' or Souson but more correctly Vinhao. In the Galicia region in Spain where Souzão is cultivated, it is called Tinta Pais. In South Africa, the variety is registered as Souzão. Other synonyms include: Tinto Nacional, Tinto Antigo, Tinto da Parada, Negrao, Negrao Pe de Perdiz, Espadeiro da Tinta, Espadeiro Basto, Espadeiro Preto and Pinta Femea.
Production in South Africa
Souzão came to South Africa in the 1920s but only about 44ha is planted in here - the majority of vineyards (24ha) are found in the Swartland region. The oldest vineyards – planted in 1976 – are found on the farm Allesverloren in Riebeek Valley. The farm is famous for its use of traditional port-wine cultivars in red wines.
Growth and Ripening
Souzão is a medium, upright grower with an average yield of 10 – 12 ton/ha but some producers choose to limit yield to 6 -10 ton/ha. It is easy to grow, prefers fertile soils and copes well with heat. Souzão takes a long time to ripen can be harvested late mid-season (late February to mid-March) at a sugar level of around 24 - 26° Balling.
Berries and Leaves
The blue-black berries are compactly packed in cylindrical bunches and have tough skins with a thick bloom. Both skin and juice add colour to the wine. Souzão has medium-sized greyish green leaves, three to five-lobed which tends to roll back from the edges.
Pests and Diseases
Souzão has an above average resistance to botrytis and downy and powdery mildew.
Use
In South Africa Souzão is used in red wine blends rather than in port-style wines. Its main contribution in red wines is its excellent colour - a dark almost black pigment. In addition to alcohol and natural acidity, the Souzão grape also adds forceful flavour. Not recommended for ageing longer than five years.
Taste/Flavour
Tasting notes include such flavours as wild blackcurrant, liquorice, spice and even leather but some tasters have described Souzão's taste coarse and raisiny. Wine from grapes grown in warm regions can have a 'jammy' flavour.By
Marinda Louw