Description
A robust red grape that produces full-bodied red wines that were developed in the 1880s by Dr Francois Durif from a Syrah Peloursin cross.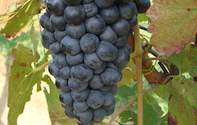 Popular in California, Petite Sirah is also cultivated in Argentina, Brazil, Mexico and Australia. It is said the only small ('petite') thing about Durif is its berries. It produced intensely coloured, tannic red wines.
Origins
Rhône valley, France
Other Names
Petite Sirah is also called Durif (after its inventor), which is the name used by SA Wine Industry Information & Systems (SAWIS). Petite Sirah should not be mistaken for Petite Syrah, the latter is a small-berried clone of the Syrah grape variety. More than 35 other names for Durif exist internationally of which Dure, Duret, Plant Durif and Pinot de Romas (France) are used. Durif is not related to California's Petite Sirah as was established by DNA fingerprinting in 1997.
Production in South Africa
Almost 114ha Durif is planted in South Africa, first established at Vititec in 2001.
Production Regions
The first commercial planting was established in 2004 on the farm Fairview in Paarl. Most of the 114ha Durif is planted in the Breedekloof (34ha) and Paarl (31ha) areas. New plantings of 24ha were established in 2016.
Growth and Ripening
The sturdy Durif vines can survive in a variety of soil types and shows vigorous growth and yield up to 22-24t/ha. The vine has a tendency to creep so trellising is preferred to keep the bunches off the ground. Plant in medium to high density. Grapes are harvested mid-season.
Leaves and Berries
Leaves are medium-large in size, pentagonal and five-lobed. Durif has small berries, tightly packed.
Pests and Diseases
Clones with very tightly packed bunches can be prone to bunch rot. Berries are sensitive to sunburn. Durif has a resistance to downy mildew, which made it popular in France in the 18th century, although it is rare in France today.
Use
Durif is used to create full-bodied red wines, both as single varietal or as a blend. In blends, it adds tannic structure and colour complexity.
Taste/Flavour
Wines can be dense fruited, robust, tannic and dark. The grape is known in California for its rich perfumed wines with black pepper notes. High in tannins, wines are capable of long ageing – ten and up to 20 years.By
Marinda Louw