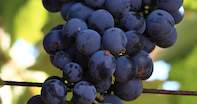 © Glenneis Kriel
Description
Cabernet Sauvignon is a red wine variety that developed out of a spontaneous crossing between Cabernet franc and Sauvignon blanc. It is associated with some of the world's most expensive wines.
Origins
The variety seemed to have developed in the 1700s in Bordeaux, where it gained popularity because of its resistance to botrytis. Its reputation grew in the 18th Century, thanks to the success of the Bordeaux wine region which used it as an important ingredient in its famous blends. It went from being the eight most planted variety in the world in the 1990s, to the most planted and popular variety in 2010.
Other Names
In the 18th Century in Bordeaux it used to be called Petit Vidure. It is also known as Petit Cabernet.
Production in South Africa
It is uncertain when Cabernet Sauvignon arrived in South Africa, but it has most possibly been here for the past two Centuries. Professor Abraham Izak Perold of Stellenbosch University in the 1920s identified it as a cultivar with the ability to produce good quality wines and therefore strongly recommended its production. The variety was initially used for the production of a single varietal wine, but was later also used for blending purposes.
Production Regions
Cabernet Sauvignon is the most planted red wine variety in South Africa. Vineyards are found throughout the wine producing regions, with Stellenbosch accounting for the biggest area under production, followed by Paarl, the Swartland and then Robertson.
Growth and Ripening
It has exceptionally vigorous growth and produces hard wood. Average production is around 6 t/ha to 12 t/ha. The grapes ripen late mid-season, towards the end of March.
Berries and Leaves
The variety has small, soft, round, black berries. The skin is tough and thick, while the flesh is firm with a characteristic grassy taste. The leaves are dark green, medium-sized, round and five-lobed with the lobes overlapping.
Pests and Diseases
The variety is sensitive to oidium and downy mildew, but relatively resistant to botrytis.
Use
In South Africa, Cabernet Sauvignon has been associated with premium single varietal wines since the 1920s. It is also used in various blends, such as with Cinsaut or Shiraz to soften the tannins, with Pinotage and other varieties to produce a Cape blend, or Merlot, Cabernet franc and so forth to produce a Bordeaux-style blend.
Taste
A large variety of clones are produced in South Africa, ranging in flavours from berries to liquorice, chocolate, grassiness and even green peppers. Generally, more than one clone is planted per hectare to increase the complexity of the wines.By
Glenneis Kriel
Cabernet Sauvignon is relatively new to South Africa, with single varietal bottlings rare, until the late 1970s, Alto and Zonnebloem Cabernet Sauvignon from the and 1960s notwithstanding. Kanonkop Cabernet was first bottled in 1973 and Meerlust in 1975....
more