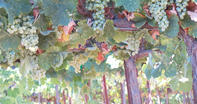 Description
A very old white wine grape that dates back to the 1500s, it was widely planted in the south of France and used in sparkling wine production, but also as a table grape variety.
Origins
France
Other Names
Clairette Blanche's name means 'clear white'. There are over 69 synonyms for Clairette Blanche. It is also known as Blanquette, Extra, Piquepoul or Clarette.Bourboulenc is a separate variety although it used the names Clairette and Clairette Blanche as synonyms.
Production in South Africa
It was established in South Africa in 1906, initially it was especially grownin the Groot Drakenstein area. Just over 35ha Clairette Blanche was uprooted in South Africa (2016) and about 195ha remains, mostly in the warmer climes of Worcester (88ha), Paarl (34ha) and Robertson (33ha).
Growth and Ripening
Clairette Blanche is an up-right and vigorous grower with brittle shoots that is sensitive to wind. It can be cultivated as both bush vine or as a trellised grower and is well adapted to well-drained deep fertile soils in cool regions.
Clairette Blanche is sensitive to drought (loses its leaves) and demands irrigation. Yield is 16 - 18 t/ha, picked at 19 - 21° Balling. Degrees Balling indicates the sweetness level in grapes and if it is ready to harvest. Clairette Blanche ripens late - up to end of March and about three weeks after Chenin Blanc.
Berries
Large oval berries with thin but tough skin.
Pests and Diseases
Clairette Blanche is very sensitive to downy mildew and bacterial blight but can withstand anthracnose and oidium. Due to its loose bunches it is resistant to sour rot and botrytis. The brittle shoots can easily be damaged by wind.
Use
Grapes oxidized quickly (wines have a short ageing potential) and produce wines of low acidity and high alcohol. Previously used for sparkling wine Clairette Blanche is now mainly used for blending. If picked early, it can be barrel-fermented to give a richer mouthfeel. Clairette Blanche can also be used as a table grape.
Taste/Flavour
Not often used as a single varietal wine, Clairette Blanche produces clear pale wines used in blends to impart fruity flavours such as lime, pineapple, green plum or even lemongrass.Described as 'flabby', Clairette Blanche also shows floral notes (rose petal, perhaps), a little citrus and stone fruit. Under favourable conditions, it can produce well-rounded wines with a delicate ester-like nuances, often describe as 'rose petal'.By
Marinda Louw