Description
Bukettraube is an aromatic white cultivar originating in Germany from a hybrid of Sylvaner and Trollinger grapes. Ripening very late in Germany and susceptible to powdery mildew, the cultivar has almost died out.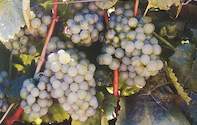 Origins
Germany
Other Names
Bouquettrabe, Bukettrebe, Boxer, Riesling Bukett, Sylvaner Musque, Bukettriesling, Bocksbeutel, Wuerzburger.
Production in South Africa
The first vineyards (recorded) were planted in 1978 on the farm Lemoenfontein near Paarl. Plantings have reduced from 280ha in 2000 to 52ha in 2016. The majority of Bukettraube (31.5ha) is found in the Swartland area.
Production Regions
Only about 70ha of Bukettraube exists in the world, with about 68ha in South Africa (2014), mainly in the Cederberg, Paarl and Malmesbury areas.
Growth and Ripening
The cultivar has a high yield, but is a slow weak grower. It is costly to grow due to high spraying costs. The grape is late ripening but this often leads to low acidity of 5-6g/l.
Berries
The big, round tasty berries have tough, slimy skin. It has large compact, conical-shaped bunches.
Pests and Diseases
Bukettraube is prone to diseases such as oidium (powdery mildew) and leaf roll and is also susceptible to sunburn.
Use
In the 80's Bukettraube was made in a sweet style, used as a noble late harvest and used in blends. It has limited popularity as single varietal wine now, and its planting in South Africa is limited due to its difficulty to grow. The aging potential of Bukettraybe is not longer than 12 months. Serve with spicy salads, curries, smoked meats or desserts.
Taste and Flavour
Bukettraube displays the distinctive apricot and floral aromas of Muscat. With wood contact Bukettraube develops buttery or slightly spicy flavours.By
Marinda Louw