Description
Created by the UC Davis in 1948 from a cross between Muscadelle and Riesling, Emerald Riesling is a white grape cultivar that was intended to produce grapes that exhibit Riesling qualities but suitable for hot growing conditions. Some researchers, however, believe that the true parents of Emerald Riesling were actually Muscadelle and Grenache.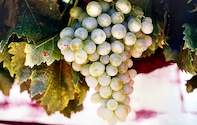 ©Vititec
Origins
United States
Other Names
Emerald Riesling is also registered as California 1139 E 29. The grape should not be confused with the German Weisser Riesling.
Production in South Africa
This hybrid grape was introduced to South Africa in 1981 and was thought to be able to withstand the warm growing conditions while being able to exhibit the flavour profiles of Weisser Riesling. The grape is also grown in Israel.
Production Regions
Only 47ha of Emerald Riesling exists in South Africa of which 26ha grows in the Robertson area. No new plantings were recorded in 2016.
Growth and Ripening
Moderate to strong growth with a high yield (20 – 30t/ha) and a trellis system gives best results. A lot of new growth occurs after harvesting which is susceptible to oidium. Adapted to various soil types and suited to warm regions. Emerald Riesling is harvested at 20 -22° Balling during mid-season in similar timing to Chenin Blanc.
Berries and Leaves
Berries are greenish white and round. With mechanical harvesting the firm attachment of stems to berries may cause skins to tear resulting in juice loss making the harvest of Emerald Riesling very hard. Leaves are medium in size, whole to 3-lobed with large, irregular teeth.
Pests and Diseases
Emerald Riesling is more resistant to botrytis than Chenin Blanc and is not very susceptible to oidium and downy mildew. Young growth that appears after harvest and can be very sensitive to oidium.
Use
Emerald Riesling can be made into a dry or semi-sweet style white wine. Bottle ageing might present a terpene-like character but not as intense as in say, Weisser Riesling.
Taste/Flavour
Described as fruity, aromatic and flavourful wines, Emerald Riesling can show flowery characteristics and a slightly spicy finish with a Riesling-like acidity (7-9g/l).By
Marinda Louw