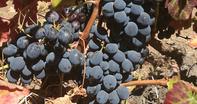 © Altydgedacht Vineyards
Description
Barbera is a red wine grape variety primarily used for the production of table wines, but also in Northern Italy for the production of sparkling wines. Scientists have so far been unable to identify its parentage.
Origins
The Piedmont region of north-western Italy, where the variety has been cultivated for centuries, is considered the variety's home. DNA analysis, nevertheless, found the variety to bear little resemblance to any of the other varieties from Piedmont, suggesting that Barbera was introduced to the region at some time.
The variety is traditionally seen as an everyday drinking wine, to be enjoyed when young with pasta, pizza, cheese or salami. Its esteem grew over the past twenty years thanks to Italian wine farmer, Giacoma Bologna of Braida estate, who produced the first internationally marketed Barbera in 1984 and at the same time proved the varieties' potential in producing serious wines.
To make this wine, Bologna strategically pruned the vineyards to lower production, harvested the grapes later than usual, resulting in the grapes having higher sugar and lower acid content, and aged the wine for 16 months in French barriques, which are small French oak barrels. Italian immigrants have spread the variety to California in the United States and Argentina. It is one of the most planted red wine varieties in Italy.
Other Names
Some local synonyms exists in Italy, but the variety is officially known as Barbera in the rest of the world.
Production in South Africa
Prof Abraham Izak Perold imported Barbera around 1910 and Ralph Parker, owner of Altydgedacht estate in Durbanville, was one of the first producers to plant the variety around 1920. Altydgedacht initially used the variety to produce fortified wines, but in 1992 became the first farm in the country to sell it as a single varietal wine.
Production Regions
The variety has a small footprint in South Africa. Initially it was planted over quite an extensive area in the Durbanville region. In spite of renewed interest in the variety, fewer than 10 farms still actively grow the variety.
Growth and Ripening
It is a relatively vigorous grower, with a production potential of 12 t/ha to 15 t/ha. To produce good quality wines, vines should be manipulated to produce small grapes clusters. The grapes ripen early, from the second week in February.
Berries and Leaves
The berries are medium sized and oval with a violet black skin when fully ripe. Its dark green leaves are oblong, of a medium size and five lobed.
Pests and Diseases
Barbera is sensitive to downy mildew and wind damage. It is well suited for mechanical harvesting.
Use
In South Africa Barbera might be sold as a single varietal wine or blended with various other varieties.
Taste
The wines made from younger grapes are associated with fresh and dried fruit, while those made from riper grapes have more prominent blackberry and sour cherry flavours.By
Glenneis Kriel