Description
Cabernet franc is a black-skinned wine grape variety used for the production of red table wines. The variety has been identified as a parent of some of the most important grape varieties cultivated these days: A crossing between it and Sauvignon blanc produced Cabernet Sauvignon, and with Magdelaine noire produced Merlot.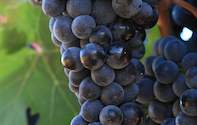 ©Glennies Kriel
Cabernet Franc Grapes in the Cape Winelands.
It is believed to be one of the oldest red wine varieties still in production, with DNA analysis suggesting it might be a direct descendant if not the very same as the old Biturica variety, which like Cabernet franc originated in Basque, Spain.
Origins
Cabernet franc is believed to have made its way from Spain to the southwest of France thanks to pilgrims returning from Saint Jacques de Compostela to France. Legend has it that cardinal De Richelieu took cuttings from the southwest of France and planted it along the banks of the Loire River.
Other Names
The variety is known by various other names, including Achéria, Bidure, Boubet, Bouchet, Cabernet gris, Carmenet, Cabernet Franco and Véron.
Production in South Africa
It is uncertain when Cabernet franc was first imported into South Africa, but professor Abraham Izak Perold already recommended its cultivation in the 1920s, because of its ability to produce good quality wines. The variety was primarily used in producing Bordeaux-style blends until 1998 when Norma Ratcliffe from Warwick Estate near Stellenbosch, became the first South African to release it as a single varietal wine.
Production Regions
The area under Cabernet franc production has remained relatively stable since 2009, representing just under one percent of the total area under wine grape production in South Africa. While the variety is planted in all the wine producing regions of the country, the largest area under production is in Stellenbosch, followed by Paarl.
Growth and Ripening
Cabernet franc is a vigorous grower, with an average yield of 10 t/ha to 14 t/ha. Grapes ripen late mid-season from the mid-March.
Berries and Leaves
The berries are blue-black in colour, round and small, though slightly larger than the berries of Cabernet Sauvignon. The skin is thin and tough, while the flesh is firm with a light grassy taste. The leaves are dark green, yet lighter green than the leaves of Cabernet Sauvignon, medium sized, round and five lobed.
Pests and Diseases
The variety is susceptible to powdery mildew.
Use
Cabernet franc is traditionally used to bring perfume and spice to Merlot and Cabernet Sauvignon in classic Bordeaux-style blends. It is gaining popularity in South Africa as a single varietal wine.
Taste
The wines may produce flavours that range from grassy to berries and dark fruit, with notes of black pepper and even tobacco.By
Glenneis Kriel
Another notable region for Cabernet Franc is the Loire Valley in France, producing light crunchy fresh and herbaceous wines, the latter only recently filtering into the aesthetic of South African winemakers....
more