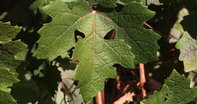 © Glenneis Kriel
Description
Roobernet is a red grape developed in South Africa in the 1960s by Prof Chris Orffer by crossing Cabernet Sauvignon and Alicante Bouschet. Similar to Pontac, Roobernet is a teinturer variety – its flesh and juice are red instead of clear as in other red cultivars.
Origin
South Africa
Production in South Africa
In South Africa, some 270 ha Roobernet are planted in various regions with the oldest recorded vines established in 1996 in Stellenbosch. The majority of Roobernet plantings can be found in the Breedekloof (56ha), Robertson (52ha), Swartland (42ha), Paarl (43ha) and Stellenbosch (32ha) areas.
Growth and Ripening
It is a vigorous upright grower that produces yields of 8 – 14 ton/ha. A trellis system will accommodate its vigorous growth. Roobernet is a mid to late season ripening cultivar, similar to Cabernet Franc. Average picking ripeness is 21—23° Balling with an acid concentration of 6-7 g/l.
Leaves and Berries
The dark green, shiny leaves are medium-sized, round and deeply five-lobed. Roobernet vines yield big loose bunches with small, round, dark black berries. Skins are tough with a wrinkled appearance when fully ripe. Juicy is blood red.
Pests and Diseases
The grape has good resistance to botrytis rot but is very susceptible to oidium, downy mildew, dead-arm (streepvlek) and dying arm (tandpyn). It was introduced to the SA industry as 'virus-purified' due to its spontaneous somatic embryogenesis after very strict virus-elimination processes. It is wind tolerant but can be sensitive to drought.
Use
Can be made into a single cultivar red wine, but Roobernet is also a good blending partner due to its intense colour. It has been used in 2001 at Fleur du Cap with Pinotage to produce a uniquely 'South African' blend and a Cape Ruby port style Roobernet made by Jacques Smit. It is recommended to limit skin contact during fermentation.
Taste/Flavour
Roobernet has been noted to have an unusual (for reds) grassy character but also shows berry and nutty accents. Due to an already intense colour from it red juice, it is a very forgiving cultivar that can produce deeply coloured wines in cooler conditions on medium- to high-potential soil. Under these conditions, the wines are showing Cabernet Sauvignon traits with a grassiness and berry character.By
Glenneis Kriel