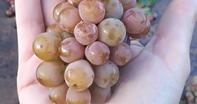 © Altydgedacht Vineyards
Description
Gewürztraminer is a mutation of the Roter Traminer wine grape grown in Germany for centuries. The mutation 'Gewürtztraminer' was selected for its floral and spicy perfumed bouquet and is one of the important grape varieties in Alsace, France. 'Gewürtz' means spice and refers to the flavorful aroma of the wines.
Origin
Germany
Other Names
Gewürztraminer is also known as Roter Traminer and Traminer (Germany), Gentil Rose Aromatique (France) and Clevner.
Production in South Africa
Imported into South Africa in 1964, just 106ha of Gewürtztraminer is planted with the most vineyards found in Stellenbosch (42ha) and Robertson (36ha) areas. The oldest blocks still in production were planted in 1981 on Zevenwacht.It is a grape variety not often planted; just 1ha of this variety was established in 2016.
Growth and Ripening
Very difficult to grow, Gewürtztraminer is low-yield cultivar (10 – 12t/ha) with an upright growth and dense canopy so thinning of leaves is needed to ensure sun exposure for even ripening. Gewürztraminer is an early ripening grape, harvested in the first week of February.
Leaves and Berries
Gewürztraminer leaves are small to round, almost entire (not deeply lobed) and heavily blistered. The cultivar has small bunches of small round berries with thick, tough skins. The berries are dull red when ripe.
Pests and Diseases
Susceptible to downy mildew and oidium and likely to bird damage and frost damage due to its early budburst and ripening.
Use
Gewürztraminer produces light fragrant white wines mostly in the more traditional semi-sweet to sweeter styles, but increasingly as a dry wine.
Taste/ Flavour
Gewürtztraminer has a distinctive rose petal, often also lychee aroma. With a relatively low acid concentration, the wine exhibits a complex aroma profile, with flavours described as honey cake, Turkish Delight or ginger. When produced in cooler coastal regions, wines can display a rich Muscat flavour and spicyness while wines from overripe grapes can be harsh and phenolic, showing up as pineapple essence.By
Marinda Louw