Description
Pinot gris and Pinot blanc are colour mutations that have developed out of Pinot noir.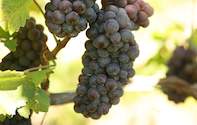 The main difference between the varieties is that Pinot noir berries are black-skinned, while Pinot blanc is white skinned and Pinot gris berries have either greyish blue or brownish pink coloured skins, sometimes even on the same bunch. Both Pinot gris and Pinot blanc are used to produce white still and sparkling wines.
Origins
Pinot gris and Pinot blanc have their roots in Burgundy France, where both have been produced for decades.
Other Names
The better known synonyms for Pinot gris are Pinot Grigio in Italy, Petit gris in France, Szükerbarát, in Hungary, which means grey monk in English, and Grauburgunder or Rülander in Germany.
Pinot Grigio is generally used to describe a light, easy drinking wine, destined for early consumption, whereas Pinot Gris, is reserved for wines that are fuller bodied and have a greater aging potential. Pinot blanc is also known as Clevner or Klevner in France, Weisburgunder or Weisser Burgunder in Germany, Pinot Bianco in Italy and Beli Pinot in Slovania.
Production in South Africa
South Africa's first Pinot gris vines were important from West Germany, where it had been produced since the 14th Century, in 1963. It was released for commercial production in 1977 and primarily used as a blending wine and base for sparkling wines.
L'Ormarins produced South Africa's first single varietal Pinot gris in the 1980s, which was sold as Pinot Grigio under their Terra del Capo label. Records of South Africa's first Pinot blanc vines are inconsistent, with some claiming it was imported from California in 1967 and released from quarantine for evaluation in 1971, while other records claim it only became available for commercial production in the 1990s.
Production Regions
Both varieties thrive under cooler climatic conditions. With just over 350 ha under production, Pinot gris production is still relatively small in South Africa. It is, nevertheless, becoming more popular and was the tenth most planted white grape variety in the country in 2016. The variety has been planted in all the wine producing regions of South Africa, except the Little Karoo and Northern Cape.
Worcester, the Breedekloof, Stellenbosch, Robertson and the Swartland are the regions with the biggest areas under these vines. Pinot blanc production never really took off in South Africa, with fewer than 10 ha reported under this variety in 2016. More than half these vineyards are located around Paarl.
Growth and Ripening
Both Pinot gris and Pinot blanc are moderate growers, with production potentials ranging between 9 t/ha to 12 t/ha. Grapes ripen early midseason – Pinot gris from the first half of February and Pinot blanc, the second half
Berries and Leaves
The berries of Pinot noir, Pinot gris and Pinot blanc are almost identical in shape and size, small and slightly oval. Pinot noir, however, is black-skinned, while Pinot blanc is white-skinned and Pinot gris starts out with a bright green coloured skin that turns greyish blue or brownish pink, sometimes with different coloured berries on the same bunch.
The skin of both varieties is thin and tough, while the flesh is soft, sweet and juicy. Pinot noir, Pinot gris and Pinot blanc leaves are almost identical; dark green coloured, medium-sized, round and entirely or poorly three-lobed.
Pests and Diseases
Both varieties are susceptible to downy mildew and Botrytis rot. Bird damage is often a problem due to the varieties ripening so early in the season.
Use
Many wineries in South Africa have experimented with Pinot blanc as a single varietal wine, but it is primarily used in blends. Pinot gris is used as a single varietal wine and blending partner with other varietals.
Taste
Pinot blanc wine has a yellow to bright green colour, with buttery citrus aromas and flavours. Pinot gris wines may vary from a diamond bright to golden colour, depending on the style of wine, with prominent peach and plum flavours.By
Glenneis Kriel