Description
A white grape variety planted in most of the wine producing countries of the world.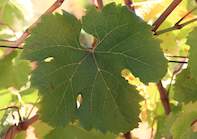 ©Glenneis Kriel
Origins
Sémillon was one of the few varietals bought from the south west of France to South Africa by the French Huguenots around the 1690s. Today, it is still seen as one of the most important white varietals produced in Bordeaux.
Other Names
Also known as Hunter Riesling in Australia, Blanc doux, Colombier and Malaga in France, and 'Green Grape' in South Africa. It was even referred to as "The Grape" in South Africa around the 1820s, because it represented such a large percentage of the area under production at the time.
Production in South Africa
It accounted for more than 90% of the area under wine grape production around the 1820s, but went into disfavour following the Phylloxera epidemic that destroyed many vineyards around the 1880s and the introduction of the KWV's quota system in the 1950s. By 1995, Sémillon represented under 1% of total plantings in the country.
Support seems to be recovering, but this has not yet translated into significant plantings. Production regions are Olifants River, Swartland, Klein Karoo, Paarl, Robertson, Stellenbosch, Worcester, Breedekloof and Cape South Coast.
Growth and Ripening
Grows well in medium to high potential soils, with yields ranging between 10 t/ha to 15 t/ha. It develops a classic green fig character, which in South Africa is associated with high quality wine, when planted on cool slopes that are exposed to the cool south westerly winds. Ripens early midseason
Berries and Leaves
Berries are round to slight oval and medium sized. They have a greenish yellow colour. The skin is thin and soft. The flesh is colourless, soft and juicy. At full maturity, the berries has a slight grassy flavour. The mature leaf is medium-sized, round, with primarily five lobes. The leaves start out with a light bright green colour, which turns dark green when mature.
Pests and Diseases
The variety is susceptible to downy mildew and botrytis, especially when produced on high potential alluvial soils, but resistant to anthracnose. It is sensitive to wind damage early in the growth season.
Use
Sémillon may be used as a single varietal or blend. It is most commonly used with Sauvignon blanc to form a classical Bordeaux blend or other white varietals, most commonly Chardonnay. It has been described as a chameleon, because of its ability to assume many different tasting profiles.
Wines
The flavour will depend on climatic conditions, the time at which berries are picked, the maturation process and whether the vines are suffering from botrytis. The clones available in South Africa, have a prominent grass or green fig flavour.
It is one of the few varieties allowing the manipulation of flavours through canopy management. The opening up of the canopy after fruit set, results in distinct fruit flavours, while closed canopies result in grassy flavours.
By
Glenneis Kriel