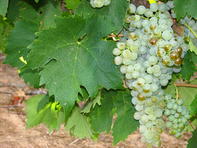 © Vititec
Description
Nouvelle is a South African white wine grape developed in 1964 by the late Professor Chris Orffer of the Stellenbosch University by open-air hybridization in the vineyards. Nouvelle's parents are Cape Riesling (Crouchen Blanc) and Ugni Blanc (Trebbiano). Nouvelle produces white wines with a distinct grassiness even when grown in warm regions.
Origins
South Africa
Other Names
In its experimental days, Nouvelle was also called 'Grass 26 varietal'.
Production in South Africa
Nouvelle's history extends back to the KWV plant improvement team, where vines were planted in small mother-blocks used when the hybrid was created between 1958 and 1962 by Professor Orffer and his According to SA Wine Industry Information & Systems (SAWIS) the first commercial block of Nouvelle was established in 1989 on a part of the Boschendal wine farm near Franschhoek.
Production Regions
Nouvelle is planted in all the major grape growing regions in South Africa with sizeable plantings in Robertson (136ha), Worcester (74ha), Breedekloof (66ha) and Paarl (54ha) areas. The cultivar has grown from 29ha in 1998 to 429ha in 2016. Especially appreciated by Boland Cellars, in 2004 Nouvelle won the first South African Young Wine Show Trophy for champion wine in 'Other White' class.
Growth and Ripening
Nouvelle is a cultivar with an above-average vigour and yield, well adapted to medium and high-potential soil. An early ripening variety, Nouvelle can be harvested early mid-season, around the middle of February.
Leaves and Berries
Nouvelle's leaves are medium to large, three- to five-lobed, dark green and smooth underneath. Nouvelle's berries are small to medium, short oval and very light in colour. The skin is very tough, almost leathery which makes it resistant to botrytis.
Pests and Diseases
Nouvelle is susceptible to oidium and downy mildew, but fairly wind resistant. The cultivar's loose bunches improve botrytis resistance.
Use
Nouvelle is popular for use in white wine blends with Semillon, Sauvignon Blanc or Cape Riesling lending grassy, green pepper notes to the final wine.
Taste/Flavour
Nouvelle produces wines with a strong grassy, green peppery character. When picked early wines show pronounced grassy and green pepper notes, but when picked at full ripeness, bubblegum flavours show up.By
Marinda Louw