Cape Town, located in the Western Cape Province, is referred to by many as the "Gateway to South Africa". No other city in the world can compare to Cape Town.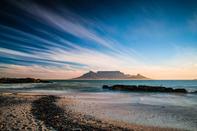 ©Chris Daly
View of Table Mountain in Cape Town, South Africa.
It is in Africa and of Africa, yet so different. Flanked between the ocean and mountain and a National Park in its heart, Cape Town is cosmopolitan, wild and wonderful. It is the oldest city in South Africa and has a cultural and fascinating heritage that spans over more than 300 years.

There are so many compelling reasons to visit the city of Cape Town. Have fun gleefully ticking off things to do in Cape Town one by one from our proposed bucket list, as you make your way through the sights, smells, flavours and cultures of this cultural melting pot.