A Monstrous Claw of Land
The Cape Peninsula lies within a monstrous claw of land. Soaring crags are nagged by the southeaster; the aquamarine deep licking its shores are icy with upwelling. It's a piece of rock like no other.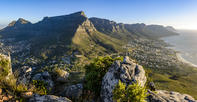 ©Roger de la Harpe
Table Mountain and 12 Apostles, viewed from Lion's Head, Cape Town.
Worshippers of sun and sea, mountain and vine have for long made pilgrimages to this cape of hopes and storms. To lie sun-struck on Clifton beach sand, meander the historical wine route, to nod off on the tour bus to Cape Point.
The Narcotic of Fear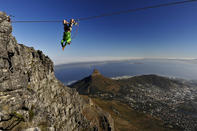 ©Jacques Marais
In contrast with the tour-bus potato, the new visitor wants a Cape Town itinerary that involves buckets of fear. Perhaps this quest for excitement is a by-product of an age where nothing less than the quick fix, sound bite or immediate thrill is involved. At the risk of oversimplifying, it boils down to adrenaline, the narcotic of fear.
You stand on the edge of a precipice hearing your body screaming a whole chorus of Very Urgent Commands. You overrule them, and throw yourself into the abyss. Try it sometime on one of many adventures in Cape Town - this could include rock climbing, abseiling, paragliding, kite surfing and tight rope walking over mountains amongst others.
Xtreme Games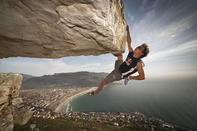 ©Jacques Marais
Table Mountain extreme climbing, Cape Town.
More recently, there's been a proliferation of new 'sports' and challenges: Xtreme games, hot-air ballooning round the world, sky-surfing and base jumping. Thrill seekers are pushing boundaries and constantly inventing daring feats, obstacles to conquer.
That is all possible in Cape Town. No other species intentionally puts itself in danger. Humans are risk takers by nature. It's what has got us this far along the evolution highway. In the absence of global we're seeking new risks. The Peninsula offers three spheres to delight the adrenaline junky, each with its own subculture, its own disciples and acolytes: adventures of mountain, sea, and air.
By
Justin Fox