Architectural Gem
Despite the colonial overtones, Rhodes Memorial is a nice little detour along Cape Town, situated in the suburb of Rosebank. It offers the visitor a pretty tea garden and grand views over the city towards Bloubergstrand.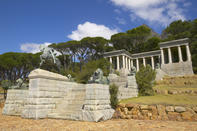 ©Roger de la Harpe
The impressive monument of Rhodes Memorial, situated in the suburb of Rosebank in Cape Town, South Africa.
Built in 1912 by Cecil John Rhodes' favourite architect, Sir Herbert Baker, the monument of Rhodes Memorial is a suitably austere and impressive testament to the Colossus of Cecil John Rhodes.
Made from blocks of Table Mountain granite, Rhodes Memorial is all neo-classical columns, staircases and stone lions perched on pediments. It's a favourite place for wedding pictures, and for University of Cape Town students intent on bunking class.
By
David Fleminger
Herbert Baker, South Africa's most famous architect, cut his teeth at the Cape round the turn of the previous century. During his relatively brief stay – just two decades (1892–1913) – in South Africa, he changed the course of our heritage....
more