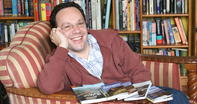 David Fleminger is a South African travel writer and director, working within the media industry for over 25 years. As a child David's family would explore South Africa, during their holidays, in a motorhome which sparked David's passion for travel. Fleminger has travelled extensively through America, Canada, Europe and Australia.
In 1994 he obtained his BA degree at the University of Witwatersrand, where he started his career in the entertainment industry, working as a video editor, producer, script writer, photographer and director. Since then, he has authored travel books as well as written and directed theatre shows, TV programmes, documentaries and educational videos.
David Fleminger's travel writing shows his love of history, the open road and an insatiable curiosity about people. David enjoys taking the road less travelled, and enjoys exploring the small towns and villages, stopping often along the way to meet the local people and hearing their stories. From his experiences he has authored and published several travel books which include a mix of history, travel tips and humorous anecdotes. All of David Fleminger's books feature his own photographs.
Some of his published works include: Fair Game – the hidden history of the Kruger National Park, Back Roads of the Cape, as well as a series of books on South Africa's World Heritage Sites which include Robben Island and The Vredefort Dome. David is a self-proclaimed film buff, and has plans to develop his own screenplays and sitcoms.
He dabbles in making podcasts and blogs. He is an established public speaker in Johannesburg and Pretoria, where he makes presentations on his books, beautifully illustrated with his photographs. On air, David is making a name for himself, with his engaging and entertaining personality and has become a recurring guest on Classic FM and Radio Today. He has also appeared on the SABC Morning Live show and several other TV shows.
David Fleminger lives in Johannesburg with his 2 dogs 2 cats and several house mates. Despite his enduring love for his hometown, he acknowledges that Jo'burg is an excellent place from which to take a holiday.