Adventure Awaits
Adventure awaits you at the southern tip of the African continent in Cape Town. Here, along a narrow spit of land known as the Cape of Storms, the global outdoor tribe is discovering a historic city where the cosmopolitan spirit of Europe rushes headlong into traditional African culture.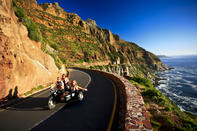 ©Jacques Marais
Biking on Chapmans Peak Drive, Cape Town.
And once you've had your urban fix, saddle up and head beyond the funky Cape Town streets to where the legendary Table Mountain National Park unfolds along the rugged peninsula.
Cosmopolitan Cape Town right now rates as one of the hottest tourist destinations on Planet Earth, and visitors flock here from all over the world. There are beaches galore: surf at Muizenberg, Black Rock or Kommetjie, go horse-riding on Noordhoek, cool off at Camps Bay or join the body beautiful brigade at Clifton to soak up the sun.
The Adrenaline Zone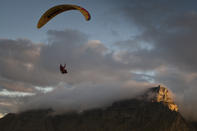 ©Jacques Marais
Paragliding from Lion's Head, Cape Town.
Venture into the adrenaline zone to see why the Cape is fast becoming the world's most wanted adventure destination. Abseil 112m off the top of Table Mountain, rock climb along heady granitic slopes or, if that's not extreme enough for you, BASE jump from the top of this Mother of a mountain. Microlighting, hang-gliding, canyoning, white shark diving, sand boarding, kloofing, big wave surfing and kiteboarding are just a few of the other extreme sport angles to explore.By
Jacques Marais