Nature Interrupted
Much of South Africa's natural heritage has been disturbed by human activities over the years and some ecosystems, such as the Fynbos Biome, even to the point of being threatened.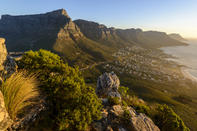 ©Roger de la Harpe
Table Mountain and 12 Apostles viewed from Lion's Head, Cape Town.
There is now great concern for the plight of the whales and rhinos, the forests and the fynbos, but in truth we can live without fynbos, even though we would be physically and spiritually poorer for it. At the same time, little public attention has been given to the most threatened and abused of all our natural environments the freshwater systems.
The mountains are still wild, natural environments where pure mountain streams gush down forested kloofs, yielding high quality water to the farms and towns below. Regrettably, once such infant rivers reach the plains, and often well before, it is only a matter of time before they are irreparably harmed by man's rural and urban activities.
Fresh water Streams of the Cape
The Cape Town metropolis is graced by numerous streams rising on Table Mountain or the Cape Flats, which provided fresh water to the sailors and colonists of the past. Today few of these streams could be called graceful, as they have been canalized and polluted with industrial and domestic wastes.
While it is true that they teem with more life than any natural river, it is only a few species of worms and bacteria that thrive on the oxygen starved, highly eutrophic conditions of these torpid drains. Some of these organisms are pathogens, which pose health problems for the shanty-dwellers and squatters of greater Cape Town, who use and abuse its rivers.
One third of the world's population doesn't have access to fresh drinking water and the World Health Organization believes that 80 percent of all sickness in the Third World is attributable to contaminated water supplies.
By
David Bristow