Cultural Diversity
Nowhere else in South Africa will you experience such cultural diversity. Here you will experience Cape Dutch homesteads, elegant Georgian townhouses, traditional dancers with painted faces lighting up the streets, the fragrant aromas of spicy Cape Malay cuisine, the taste of well matured wine and the sound of the snoek horn advertising the wares of vendors at the harbour.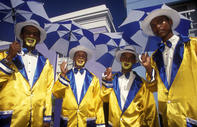 ©Roger de la Harpe
Every year, Cape Minstrels (also known as Kaapse Klopse) members take part in the Second New Year Street Parade in Cape Town.
Cape Town is every tourist's dream. It satisfies the needs of even the most discerning guest and you will never get bored. The imposing and majestic Table Mountain, Cape Town's most famous celebrity, watches over the city and offers some world class climbing.
Adventure Lovers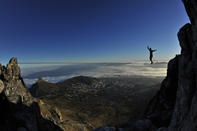 ©Jacques Marais
Tight rope walking on Table Mountain, Cape Town.
The surfing in Cape Town is World-class amazing and the SCUBA diving is cold but good. Adventure lovers can also enjoy mountain biking, rock climbing, sand boarding or sea kayaking for a truly memorable experience. You are sure to encounter seals, dolphins or penguins. Cape Town has an enviably long tradition of fine wine and dining, whether supporting a neighbourhood farmer's market or embarking on a craft beer or wine tasting experience.