South Africa's Premier Attractions
Air flips and trips are available, as well as many boat and yacht trips from Table Bay Harbour, including trips to Robben Island, which is fast becoming one of South Africa's premier tourist attractions. Table Mountain a World Heritage Site, where visitors can reach the summit by cableway. The mountain is covered by thousands of species of fynbos and is home to the famous silvertree.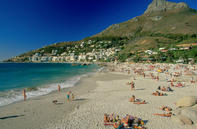 ©Roger de la Harpe
Clifton Beach, Cape Town.
Clifton is known as Cape Town's most glamorous beach. Granite boulders divide the beach into four separate coves, making it especially popular on windy days. Newlands is home to the Kirstenbosch National Botanical Garden. In summer, various open-air concerts are held, and visitors can bring their own picnic baskets.
At Cape Point, part of the Cape of Good Hope Nature Reserve, there are many drives, walks, picnic spots and a licensed restaurant. A great deal of care has been taken to protect the environmental integrity of this 7 750-ha reserve of indigenous flora and fauna.
Major Attractions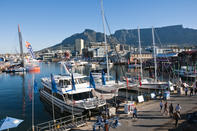 ©Roger de la Harpe
The harbour at the V&A Waterfront, Cape Town.
Life in the City of Cape Town centres around the Victoria & Alfred Waterfront, a working harbour offering everything from upmarket shopping malls, arts and craft markets, theatres and live music to museums and the Two Oceans Aquarium.
Major attractions in the city include the Bo-Kaap Museum; the Castle of Good Hope; the Company's Garden; the District Six Museum; flea markets (namely, Green Market Square); the Grand Parade; the Houses of Parliament; the Planetarium; the South African Cultural History Museum, and the South African National Gallery.
Seaside Villages
Simon's Town's naval atmosphere and Historic Mile are major attractions of the area. A statue of the famous dog and sailor's friend, Able Seaman Just Nuisance, stands at Jubilee Square. Other attractions include the South African Naval Museum, the Stempastorie Museum, and the Warrior Toy Museum. The first phase of a waterfront development project, including a four-star hotel, restaurants, coffee houses and shopping arcade, has been completed.
At Boulders Beach, visitors can swim with members of one of only two mainland jackass penguin breeding colonies in the world. Hout Bay is well known for its colourful working harbour. Seafood outlets, around the bay trips to the nearby seal colony, shell and gift shops and a world-famous harbourfront emporium, Mariner's Wharf attracts many visitors.
Duiker Island, opposite The Sentinel, is a seal and seabird sanctuary. The World of Birds Wildlife Sanctuary is one of the largest bird parks in the world and provides a home for some 3 000 birds. Visitors are allowed to walk through the large, landscaped aviaries.