Hybrid of Cultures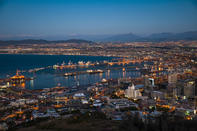 ©Roger de la Harpe
View over Cape Town (also known as the Mother City) at night.
In 1993 the Cape Province was divided into three separate provinces, one of which became the Western Cape. Cape Town was founded by the first Europeans to settle in South Africa. With the settlers came their slaves, predominantly from Malay. Nowadays, Cape Malay cuisine and culture has been assimilated into the Capetonians heritage. The early settlers came from Holland, France, Germany and England. The language franca became a mix of all these languages and as a result, Afrikaans was born. Many buildings, monuments and infrastructures can still be seen today, depicting the history of the Western Cape and the birth of South Africa.
Kaapse Klopse Street Parade
Annually in the New Year, there is the Cape Minstrels Street Parade, (Kaapse Klopse). Whereby, troops of brightly dressed minstrels regale the crowds with their soulful songs, banjos and marching, to celebrate slave's day, as they have done since the mid-19th century. In the past, slaves were given one day off each year on the 2nd January, Kaapse Klopse is a celebration commemorating this time.
Cape Dutch Architecture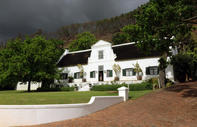 ©Ann Gadd
The Cape Winelands boasts beautiful dutch architecture, such as Rickety Bridge Manor in Franschhoek, Western Cape.
The Cape Vineyards and the Cape Dutch style developed in tandem, the buildings growing in stature as the wine farms prospered. With their defining front gables, they virtually rise from the ground on which they stand. The floors were made from clay, cow dung, often 'tiled' with peach pips; the walls were sun-dried bricks plastered and washed with lime, the ceilings were either forest hardwood boards or brandzolders - made from reed and clay; the roof beams were cut from yellowwood, stinkwood, ironwood, witels and other forest trees, and the roofs were thatched with local reeds or grass. Think of Meerlust, Groot Constantia, or Vergelegen those graceful old buildings form the country's most sublime material heritage.