Wonderfully Unpretentious
For the visitor, there are quite a few things to see and do in the Bo-Kaap (formerly known as the Malay Quarter) in Cape Town. A good first stop is the Bo-Kaap Museum.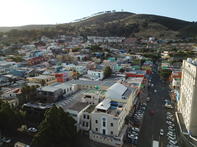 ©Eric Miller
Aerial view of the Bo-Kaap, Cape Town.
This is a small installation that explains the history of the area, and the museum also houses a superb photographic exhibition. It's wonderfully unpretentious.
Then, go get something to eat from one of the restaurants. This is the best way for open-minded gourmands to try some of the distinctively spicy Cape Malay cuisine of the Bo-Kaap. While Cape Town has ritzier places to eat traditional food like Bobotie or Bredie, these old establishments in Bo-Kaap is filled with authenticity and offer a friendly welcome.
By
David Fleminger
On a certain day in the Bo-Kaap (Upper Cape), there is unusual activity in the houses of Malay families as little girls ranging anything from three to twelve years old are dressed up in colourful silken flower dresses handed down by older sisters and cous...
more
From the doors of the Slave Lodge in Cape Town, you can see up Wale Street into the colourful heart of the Bo-Kaap. Pronounced Boo-uh Kaap, this is the traditional heartland of the Cape Coloured and Cape Malay community...
more