The Colourful Heart
From the doors of the Slave Lodge in Cape Town, you can see up Wale Street into the colourful heart of the Bo-Kaap.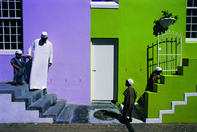 ©Eric Miller
Chiappini Street in Bo-Kaap, Cape Town.
Pronounced Boo-uh Kaap, this is the traditional heartland of the Cape Coloured and Cape Malay community, and it echoes with the sounds of their laughter and the sighs of their suffering. The Bo-Kaap is a tightly packed suburb that starts above Buitengracht Street and creeps up the Eastern slopes of Signal Hill in the City Bowl. The steep streets of this distinctive district are crowded with cars, kids and rows of pastel-coloured houses.
The Great Task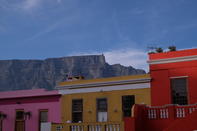 ©Eric Miller
Bo-Kaap homes in Wale Street, Cape Town.
Although first developed in the 1760's as a place for poor people to live, the Bo-Kaap's close proximity to the City always marked it out as something special. When the slaves were finally emancipated in the 1830's, most of them quickly moved into the Bo-Kaap and here they lived for many years, producing the so-called coloured community of the Cape.
Then, a century later in the 1930's, the city council undertook The Great Task. The Great Task was an early example of forced removals, intended to rid the City Bowl of non-whites and move them to the sandy wasteland of the Cape Flats. It was also a convenient way to make more room for the expanding CBD, Cape Town City Bowl.
Prior to the 1930's, the black population lived in backyards and slums around the city. Many of these slums were owned by members of the city council and, once the deportations were underway, the city management quickly began knocking down the old houses to make way for expensive new developments on their now-vacant land.
Gentrification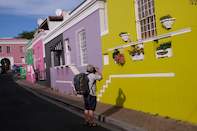 ©Eric Miller
Tourist taking a photo of the colourful houses in Bo-Kaap.
During the 1940's, the Great Task ran out of steam and was never completed. Thankfully, the Bo-Kaap also went on to survive apartheid and did not suffer the same fate as the now-vacant District 6. And yet, the Bo-Kaap is now facing its greatest threat yet – Gentrification. The gentrification process is viewed differently by every person - some would say its the 'rejuvenation of deteriorated urban neighbourhoods', while others would call it the destruction of generational homesteads.
The people of Bo-Kaap have had clashes with police over new construction sites in the area, and continue their efforts in blocking the demolishing of homes and the displacement of the working class and poor residents. Nevertheless, the Bo-Kaap retains a great deal of its original flavour, colour and flair.
By
David Fleminger