Penguin Pie Anyone?
The following entry was made in Cape settler Jan Van Riebeeck's journal on 14 April 1654: "As within two or three days at the most we shall have no penguins left, in the Fort's stores… we once again sent the boat with five casks to Robben Island, giving instructions to the bookkeeper Verburgh… to salt enough penguins to fill the casks and bring back alive as many as could conveniently be conveyed here.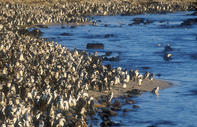 ©Roger de la Harpe
African Penguin (also known as the Jackass Penguin) colony on Robben Island, Cape Town.
In view of the heavy consumption and the scantiness of our victuals, and to prevent the islands from being devoid of these birds, we gave orders that instead of thrice daily, food should be served only twice… and in the evening only half a penguin per person." Just to put this order into perspective, the penguin population on Robben Island probably totalled tens of thousands when the Dutch first landed at the Cape.
Within two years, a European population of a couple of hundred people had virtually wiped out the island's colony. Furthermore, the settlers were also hunting hippos, seals, buck and other wildlife in the mountains around the Cape, and they were also trying, rather unsuccessfully) to cultivate a vegetable garden on the slopes of Table Mountain. Clearly, the poor penguins of Robben Island were no match for the voracious appetites of the Europeans.
By
David Fleminger