Dante's Southern Garden of Eden
When Portuguese ships first reached the Cape in the late 1400s, on sighting a flat-topped mountain rising as if out of the southern ocean they believed they had found Dante's Southern Garden of Eden.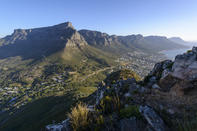 ©Roger de la Harpe
Table Mountain and 12 Apostles viewed from Lion's Head, Cape Town.
The ancient Greeks believed that an earthly paradise existed somewhere in the southern hemisphere, located on a high mountain. Dante took up this theme in Canto 26 of his Divine Comedy, written around 1320, writing that Paradise is situated at the summit of a mountain, surrounded by forest, through which two streams flow, under the Southern Cross.
"Upon the top of this promontory Nature hath formed here a great plain, pleasant in situation, which with the fragrant herbs, variety of flowers, and flourishing verdure of all things, seems like a terrestrial paradise." Not only that, but it was a flat-topped mountain rising out of the sea.
A Treasure Trove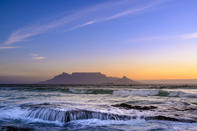 ©Roger de la Harpe
Table Mountain viewed from Bloubergstrand, Cape Town.
Table Mountain is the only physical feature on earth after which a constellation has been named, Mons Mensa, seen in the southern night sky close to the Southern Cross. By the 16th Century, the Cape had become a treasure trove during the great age of collecting. Wild beasts of forms hardly believable were seen for the first time: the Cape buffalo, Cape lion, Cape mountain zebra, Cape this and Cape that. Capensis also came to dominate floral lists.
So much so in fact, that the father of modern taxonomy Carl Linnaeus, working at Uppsala University in Sweden was dumbfounded by the wealth of flowering plants sent to him by explorers to describe and name. In a letter of 1769 to the Cape Governor Rijk Tulbagh, Linnaeus scratched with his inked quill tip that he envied Tulbagh's "sovereign control of that paradise on earth, the Cape of Good Hope, which The Beneficent Creator has enriched with His choicest wonder."
By
David Bristow