There isn't a better introduction to Cape Town than exploring the city's nightlife. As much as Cape Town is a busy city during the day, it truly comes alive during the night time.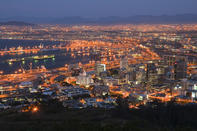 ©Roger de la Harpe
View over Cape Town at night showing the city lights.
No matter the season or the weather, the City's nights are long and the doors of trendy restaurants, eclectic art galleries and festive bars and clubs are always open. Whatever your preference, a night out in Cape Town has a lot to offer - there are tiny bars and restaurants that ensure you have a quiet, relaxing evening; hipster cafes and clubs are sure to entice any millennial; world-class restaurants will impress any foodie and theatre, live shows by local artists and art galleries are bound to interest art and music fanatics. A mere stroll down the streets of the City Bowl encapsulates the City's vibe.
First Thursdays
©Eric Miller
The Bombay Bicycle Club in Kloof Street, Cape Town.
First Thursdays has become a monthly ritual where people can enjoy a night out at some of Cape Town's best art galleries and cultural events. There are also plenty of bars and restaurants that support the event and offer discounted drinks and meals. You can plan your night according to the streets of the city - you can start in the East precinct and go down Roeland Street to the Orms School of Photography and The Book Lounge, or head down south for an array of bars and eateries like the Hokey Poke in Church Street or The Beerhouse in Long Street.
Be sure to make a stop at the 99 Loop Gallery in Loop street, as well as Youngblood Foundation and World Art. Moving north, you'll find the Labia Theatre in Orange street, which features short films put together by a guest curator every month. Up Kloof Street, you'll find amazing dining experiences at Tiger's Milk and Bombay Bicycle Club. Head out and grab a map at any of the designated points of the event and venture into the beauty of the Mother City - you'll be talking about it until the next month's event!
Party in Long Street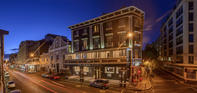 ©Roger de la Harpe
The Grand Daddy Hotel in Long Street, Cape Town.
Long street is known as the 'party street' of Cape Town - it boasts with a buzzing nightlife that attracts millenials, old-school crowds and tourists alike. At the top of Long street, you'll find numerous backpackers and lodges, ensuring that you'll meet a few friendly foreigners. As you make your way down, you'll find a range of bars and nightclubs, each suited to different tastes and moods.
Sergeant Pepper 'SGT Pepper', Neighbourhood and The Beerhouse are great stops to grab a bite before hitting the dance floor at nightclubs like Fiction, Stones, Joburg/Pretoria Nightclub or Abantu. Popular bars include The Slug and Lettuce, The Dubliner and the infamous Bob's Bar. Whether you are looking to go club-hopping or simply enjoy drinks with friends, Long Street caters to any and all party-needs.
Honourable Mentions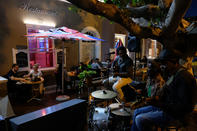 ©Eric Miller
The Station on Bree in Bree Street, Cape Town.
All through Cape Town, you'll find amazing spots for whatever occasion - almost all streets have something spectacular to offer. On Kloof Street, you'll find intimate spots for a romantic dinner or nightcap, like Kloof Street House and Bombay Bicycle Club, or a quick pre-drink stop at Yours Truly or Tiger's Milk.
Down in Bree Street, you'll find eclectic little gems like Nitro House and The Station on Bree. The Shack just across Roeland Street deserves an honourable mention for its relaxed atmosphere and alternative vibe. The Village Idiot in Loop Street is also worth a visit, as well as Tjing Tjing rooftop bar in Longmarket Street.
The Crypt Jazz Restaurant down Wale Street is a must-visit for jazz lovers who enjoy good food and live performances from local jazz artists. A night out in Cape Town is sure to not disappoint - there is a bar, restaurant, art gallery, event and nightclub for any and all tastes and preferences. The City's nightlife is nothing short of awesome and is bound to excite any local or tourist.