The History
Cape Town was young in 1696 when its first town hall, the Burgher Watch House, and the adjacent Greenmarket Square, where slaves and vegetables were bought and sold, were built.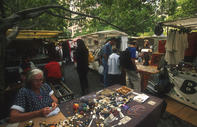 ©Roger de la Harpe
Greenmarket Square in Cape Town City Centre.
In 1761, the Cape Baroque Old Town House, that today houses a priceless Dutch and Flemish art collection, replaced the Burgher Watch House as town hall. Other buildings on the square date back to the 1860s, while the Gothic Revival Methodist church was built in 1871. Early last century came two Art Deco beauties, Namaqua and Market houses.
The current Holiday Inn was originally Shell House, built in 1929. The square was declared a national heritage site in 1961, encapsulating the city's history up to 1930. Sturlé Tobacconists has been there since 1793. Modern-day Greenmarket Square is a vibrant space for vendors to sell local items to tourists.
By
David Bristow