Self drive routes from Cape Town invite visitors to the Mother City, to experience the natural splendour, fun activities and scenic attractions of Cape Town, the Cape Winelands and further afield.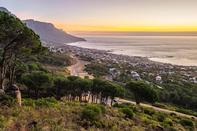 ©Chris Daly
Self drive routes from Cape Town allow visitors to see the beauty of the city and surrounding areas.
Self Drive Routes from Cape Town are ideal for those wanting to travel at their own pace and explore the area as they want to. These travel packages are suited to couples, families and solo travellers alike, with an awesome itinerary that suits your individual needs.
Cape Town is a popular tourist destination with loads of fantastic attractions, restaurants and accommodation options available, and the surrounding areas offer gorgeous scenic drives to various amazing sites.
Self drive routes from Cape Town can include a leisurely meander along the winelands to the coast, or follow an outdoor tour suited to adrenaline junkies in search of adventure. Whether you are looking for family-orientated activities, historical attractions, food and wine excursions or a mix of the above, a self drive tour from Cape Town will accommodate you and all your requirements.
South Africa Online ® offers visitors to Cape Town the opportunity to explore the area in their own time with a memorable trip from the Mother City into its surroundings. Expect to be delighted by the sites, sounds and excellent hospitality of Cape Town, the ultimate holiday destination of South Africa.