The Western Cape is blessed with a plethora of majestic mountain ranges and rocky outcrops that have long provided nature enthusiasts and outdoor adventurers alike with hours of enjoyments and splendid views of the Cape.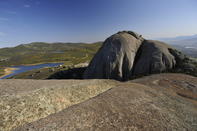 ©Jacques Marais
Paarl is one of the stops on this splendid self-drive route from the Cape.
The Cape Rock Route is a self-drive route of wild rocks and towering mountain passes - arguably one the most dramatic and scenic routes in the Cape area. You'll see some most astonishing rock formations, forged out of ancient cataclysmic events, then delicately decorated by the San who roamed these mountains hundreds and thousands of years ago.
The starts with a walk up the mother of all rocks, a huge colossus of granite above Paarl just outside of Cape Town, then journeys through the Cederberg to Agter Pakhuis in an area that may have more rock paintings per square kilometre than anywhere else in southern Africa. It continues on to Lambert's Bay and Velddrif, where you'll see hidden gems of the West Coast.
These are the roads less travelled, beautiful drives through remote and rugged rockscapes and endless valley vistas. The solitude means the nights sparkle with thousands of stars, which the Bushmen believed were embers drifting up from the night fires.
The Cape Rock Route is the ultimate self-drive route for nature lovers and outdoor enthusiasts on holiday in the Cape and in search of adventure. This 3-day drive lets you explore a wide area of the Western Cape, with great accommodation options to choose from, local cuisine to try and other attractions on offer.