South Africa is a rich and diverse country teeming with natural beauty, unique and fascinating cultures and an amazing historical heritage. This is the land where 2 oceans meet and where the magnificent Big Five wildlife of Africa roam. It is yours to explore!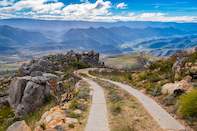 ©Chris Daly
Experience it For Yourself
South Africa is home to some of the premier game reserves and national parks in the world, including Kruger National Park. Here you can enjoy a combination of experiences - nature, history, culture, wildlife, all in one country. The wonderful climate makes South Africa a year round travel destination and an ideal family destination.
A social distancing self-drive South African holiday is a cost efficient way to explore, affording the chance to do so at your own leisure, taking in as much of the attractions as you like. Self-drive tours allow you to fulfill your personal interests at your own pace and choose a South African routes itinerary to suit your individual needs.
Touring South Africa is a rewarding experience, and offers guests the opportunity to experience the unique natural beauty, diverse cultural heritage and fascinating history of this spell-binding country.

As the world enters a new phase of travel and leisure, social distancing travel in South Africa will become the new normal. Discover a world of new destinations, some off the beaten track, surrounded by nature and spectacular scenery. Miles of space. Just you surrounded by the natural beauty of South Africa.

Everyone loves a good road trip – and with a country as beautiful as South Africa, it's easy to see why. Open Africa Routes let you take to the road, which is ingrained in South African culture and what better way to plan your safe social distancing route than to have a basket of attractions that you can choose from.

Self drive routes from Cape Town invite visitors to the Mother City to experience the natural splendour, fun activities and scenic attractions of Cape Town, the Cape Winelands and further afield including Route 62 and the beautiful Cape West Coast.

Our specialized South Africa travel tips will help you with everything you ever wanted to know about travelling in this fascinating country. Learn more about safety, transport, culture and customs, safari tips and reasons to visit South Africa.

Discover Places to visit in South Africa, from bustling cities, to towns and dorps, nature reserves, private game reserves and everything in between. Find recommended accommodation in selected locations across the country.

Visit Kruger National Park - the premier game reserve in South Africa. Experience the magnificent Big Five wildlife of Africa. Kruger Park boasts luxury safari lodges, rest camps of every description, picnic spots, game drives, walking trails, and an extensive public road network.