As the world enters a new phase of travel and leisure amidst the Covid-19 outbreak, social distancing travel in South Africa will be the new normal for business trips, family getaways, solo adventures and honeymoons.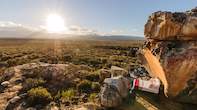 Escape From The Crowds
Social distancing travel in South Africa will require travellers to keep a good distance between themselves and staff, as well as other travellers. Good hygiene practices will have to be adhered to, and strict regulations regarding public transport, shared spaces and the preparation of food will have to be taken into account when social distance travelling.
Local travel offers South Africans a chance to explore their own backyard - cosy farm cottages, beautiful beach houses, luxury lodges, cultural tours and adventures in nature are some of the amazing social distancing travel in South Africa experiences the country has to offer. Newly safe holiday destinations will allow for splendid family travel and multi-generation travel opportunities.
Each travel opportunity will have its own set of rules and regulations regarding social distancing, and travellers are encouraged to protect themselves and their companions at all times.
Planning your next adventure will be easier than ever, as many lodges, hotels and guesthouses will offer great package deals for those looking to escape into nature and relax in solitude.
A social distancing traveller will be navigating uncharted territory, but will usher in a new age of safe travel in South Africa.