The gorgeous marriage between wine and cheese is nowhere more apparent than in the Cape Winelands, with olives and olive oils completing the picture.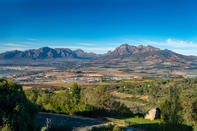 ©Chris Daly
The Paarl valley is known for producing amazing cheese, wine and olives.
Your Cape Town holiday need not just be a city excursion - head out on this self-drive route to the Cape Winelands valley of plenty where nature sets the pace, and the warm hospitality of the countryside locals welcomes you as you meander through the Paarl area before moving on to Wellington.
This route is ideal for couples, nature lovers and families wanting to explore the spectacular views of the Winelands and its wonderful food and wine offerings. Charming bistros, elegant restaurants and quaint farm shops are scattered throughout the area, with delicious cheese, wine and olives on offer.
If you're looking to spend some time in nature and enjoy the delicacies of what makes the Cape famous, travel through the Cape Winelands and enjoy this cheese, wine and olives route.