As you nibble your way through camembert and caseggio around Paarl and Wellington, you'll have the opportunity to see some of the Western Cape's most beautiful natural environments. With the occasional olive and glass of wine, this self-drive route is ideal for foodies wanting to taste their way through the area.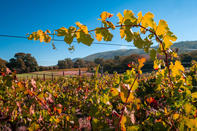 ©Chris Daly
Paarl and Wellington are great places to visit on your South African holiday.
Outdoor Activities
There are a few outdoor activities for those wanting to get physical and embark on a mountain biking route or hiking trail. It is the ideal way to start off the self-drive route - after a hearty breakfast at your accommodation in the Cape, you can rent a mountain bike in the area or simply put on your walking shoes for a fun outdoor adventure.
The Paarl area is renowned for its great mountain biking, so rent a bike and get going through the beautiful vineyards, lush greenery and serene views of the Klein-Drakenstein and Du Toitskloof mountains.
Wellington also has some trails to try out, suited to both beginner and experienced riders. Hikers will be happy to know that there are nature walks to try as well in Limietberg Nature Reserve, which is in close proximity to Paarl, as well as Paarl Rock and Paarl Mountain Nature Reserve.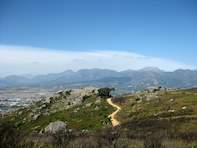 Paarl Mountain has a great hiking trail with gorgeous views of the area.
Hot Air Balloon Rides and Horse Trails
For guests wanting to do something a little different, why not start the cheese, wine and olives route with a magnificent hot air balloon ride, or a scenic horse trail through vineyards? Paarl has great winelands ballooning that launches at sunrise and allows visitors to see the splendid landscape of the area from a far. You'll see the towering Hottentots Holland Mountain Range, as well as valleys, vineyards and gorgeous countryside.
A horse trail through the wine valley is another great way to start this route off with. Riders are treated to spectacular views of the Du Toits kloof mountain range, the Swartberg farming areas to the west and the majestic Table Mountain.
The best time to experience the cheese, wine and olives route is essentially all year round - warm summer days are perfect for chilled chardonnay under a shady oak, while winter delivers a completely different feeling, as many tasting areas have roaring fires. Cellar tours are more interesting during harvest time (February and March), while autumn turns the vineyards to gold.
Kids' Activities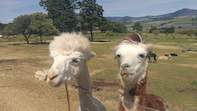 ©Carla Lottring
The Alpaca Loom in Paarl is a great way to entertain the kids on this self-drive route.
For families on the cheese, wine and olives route, there are numerous activities to entertain the children. The Alpaca Loom in Paarl is a great way for kids to interact with alpacas in a safe area, with a charming coffee shop to match.
Butterfly World is an animal sanctuary where kids can see butterflies, as well as a spider room with displays of indigenous and exotic spiders and scorpions. There is also an outdoor garden in which you will find a large aviary, a meerkat enclosure, and wandering ducks, chickens and goats eagerly awaiting the seed and fodder that children can buy from the gift shop in order to hand feed them.
Le Bonheur Crocodile Farm in Paarl offers an educational guided tour of their crocodile pond – which is home to more than 1 000 reptiles – so that kids can learn more about these scaly creatures.