Cape Town is a wonderful tourist destination with great accommodation, world-class restaurants, outdoor adventures and leisure activities for all. But, if you'd like to get away from the hustle and bustle of the city, why not escape to the country from Cape Town into the Cape Winelands and the Breede River Valley?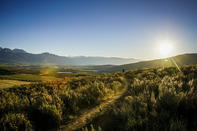 ©Jacques Marais
Ceres forms part of the beautiful countryside of the Western Cape.
As amazing as Cape Town is, visitors should escape to the country to experience the natural splendour of small-town South Africa. The charming hospitality and old-world beauty of the countryside will enhance your South African holiday tenfold.
The Cape Winelands is a prime countryside destination with lots to offer - splendid natural landscapes, quaint restaurants and curio shops, renowned wine estates and farms and a good selection of outdoor activities. A self-drive route through the countryside will take you through the farmlands of Malmesbury and Riebeek Kasteel, to the fruitful valley of Tulbagh, Wolesley and Ceres, and then to the wine country of Wellington.
This 3-day Escape to the Breede River Valley self-drive route is perfect for couples, families or solo travellers wanting to explore the inland area of the Western Cape, but still be in close proximity to Cape Town city centre. The best time of year to embark on this trip is either during summer (November to February) or winter (April to August) time. The summer weather will permit fun outdoor adventures, while the winter months will turn the landscape green.