If you are in the mood for a lovely trip through the countryside, this self-drive route from Cape Town through the Cape Winelands and Breede River Valley is ideal for the whole family, as there are various attractions and activities to enjoy along the way.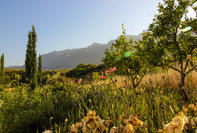 ©Ann Gadd
Tulbagh has great walking trails on offer.
Hiking Trails
A hike is a great way to see the countryside from a different perspective. Whether you're an experienced hiker or a walker for leisure, a nature walk in the Cape Winelands is an activity the whole family can enjoy. Take along a picnic basket and take in the sights of the countryside landscape.
There are numerous hiking trails on this self-drive route that you can easily fit into your itinerary. The Mulrudi trail in Tulbagh consists of a range of trails that wind through the valley, offering walkers great views of the area. Christie Prins Hiking Trail in Ceres boasts a two-hour trail for beginners or a four-hour one for more advanced hikers, with views of the Skurweberg Mountain Range.
The Bobbejaans River Trail in Wellington is a 9 km trail that leads to a splendid waterfall, with a pathway that leads through a kloof with plentiful fauna and flora to see.
Mountain Biking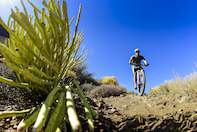 ©Jacques Marais
Ceres is great mountain biking territory.
Avid cyclists will be happy to know that this self-drive route through the countryside has lots of mountain biking routes to offer, along with opportunities to see beautiful farmlands, vineyards, rivers and mountain ranges.
The Kasteelberg route at Riebeek Kasteel is a perfect ride to work into your itinerary It's a two-hour trail that runs from the town into the Wamakers Valley. From here, a network of farm roads take you onto Kasteelberg and back to town. It's a scenic ride worth traversing.
The fertile valley of Tulbagh hosts the Schalkenbosch Trail, which is a 26 km route along the mountainside above Tulbagh. On the other side of town, the Saronsberg Trail (16 km) crosses 6 farms, mostly along farm trails with light climbs and descents. The town of Ceres is great mountain biking territory and boasts four routes across the area, suited to intermediate and advanced riders. All routes offer gorgeous views of the mountain and valley.
One of the last stops on this self-drive route, Wellington, offers riders a day of great trails to embark on, such as sublime single-track trails called Route 66, Angel's Tears, Heaven's Gate, and Point Break. The routes wind through orchards, vineyards, pristine fynbos and past stunning waterfalls.
Eat and Sleep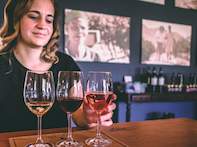 Wellington boasts great wine tasting experiences for guests.
An escape to the country from Cape Town provides visitors with the opportunity to enjoy some of the Western Cape's best local cuisine. Homemade goods, such as olives, cheese and artisanal breads can be sampled at various stops along the route, as well as award-winning wines, beer and gin.
The towns of Riebeek Kasteel, Tulbagh and Wellington are renowned for their wine estates, and the fertile valley of Ceres produces top quality citrus and fruit. Intimate restaurants, coffee shops and farm stalls are scattered along the route, so be sure to stop for a hearty lunch or light snack at one of the destinations.
Accommodation on this route will range from quaint cottages and farmstays to comfortable bed & breakfasts, as well as hotels and guesthouses. Couples, families and solo travellers alike will find lodging suited to their needs in every town, with beautiful views of the countryside to match.