Cape Town to Malmesbury
From your accommodation in Cape Town city centre, get on N1 in Foreshore from Christiaan Barnard St/M60 and turn right onto the N1/Table Bay Boulevard ramp to Paarl.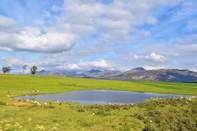 Tulbagh is a beautiful countryside town with lots of activities on offer.
Take exit 10 for Century City Drive/N7 toward Goodwood/Malmesbury and continue on the N7 past the Melkbosstrand turnoff, all the way to exit 65 for R315 toward Darling/Malmesbury/R46.
The town of Malmesbury is situated in a wheat farming area with lots of charm and beautiful natural scenery. Visitors can stop for a hearty breakfast at one of the town's coffee shops, and continue on with a drive along the area to see Malmesbury's historical buildings.
Malmesbury to Riebeek Kasteel
From Malmesbury, follow R45 and R46 to Hermon St, continue on Hermon St. Drive to Van Riebeeck St in Riebeek Kasteel. Situated in the stunning Riebeek Valley, the town of Riebeek Kasteel is a popular destination for tourists in search of great wine and olives.
This farming area boasts vineyards, wheatfields and olive groves of note, as well as a vibrant community that lends the town. It's local shops, bistros, restaurants and art studios are well worth a visit. You can enjoy a fabulous culinary experience at Kloovenburg wine estate, which produces award-winning wines, olives and cold pressed extra virgin olive oil for tasting.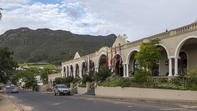 ©Roger de la Harpe
Riebeek Kasteel main street.
Riebeek Kasteel to Tulbagh
From Riebeek Kasteel, take Hermon St to R46 and follow R46 to Tulbagh, located in the scenic Tulbagh valley. This historic town boasts idyllic wine estates and farmlands, as well as great restaurants and outdoor activities like mountain biking and walking trails.
The Tulbagh wine route consists of intimate, homely cellars that produce honest wines, as well as boutique estates known for their award-winning labels, such as Drostdy-Hof Wine Estate, Manley Private Cellar, Saronsberg Cellar and Blue Crane Vineyards.
The first day of your self-drive route through the countryside stops at Tulbagh, where you'll find a range of accommodation options. The town offers all the modern-day comforts the discerning traveler might wish for, with self-catering and bed and breakfast facilities in the surrounding mountains, on working farms and family wine estates. There are also a range of lodgings in the village clustered around historic Church Street.