Tulbagh to Wolesely
From your accommodation in Tulbagh, take Museum St to Van Der Stel St. Drive from Van Der Stel Sint and R46 to Wolseley, and turn right into town.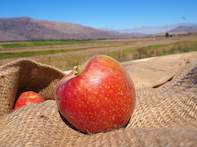 Ceres is well known for fruit farming.
Wolseley is a picturesque little town in the countryside, surrounded by the majestic Waaihoek, Witsen and Waterval Mountains, After a quick drive from Tulbagh, you can enjoy a scrumptious breakfast in town while you plan your outings for the day.
A variety of farming occurs in the valley, including fruit, vegetables, olives, wheat, dairy, sheep and grapes, and makes for breathtaking scenery and a variety of delicious food and wine.
Wolesley boasts a great mountain biking trail that is 41 km of gorgeous mountain, forest and waterfall scenery. For the hikers, the New Munster trail is a lovely 3 hour walk through veld on the way to the foot of the Mostertshoek Mountain, and is fairly easy.
Wolseley to Ceres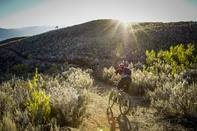 ©Jacques Marais
Ceres has spectacular trails for hikers and cyclists to enjoy.
From Woleseley, head east toward Voortrekker St. turn right onto R46 and head to the town of Ceres.
Ceres is a popular tourist town known for its scenic natural landscapes and outdoor adventures. Reenergize with a light lunch at one of the town's cafes and take in the fertile farmlands around you - this is a prime countryside town, with spectacular views that are ideal for photographic moments.
Visitors can enjoy a range of activities, such as zip sliding over breathtaking rock formations, abseiling, 'kloofing' at the magnificent Matroosberg, or riding the tough, exhilarating Tankwa Trek mountain biking route. Ceres also boats a stunning 9-hole golf course that is ranked as one of the best in South Africa.
Ceres to Tulbagh
As the day draws to a close, return to the R46 and head back to your accommodation in Tulbagh. Revisit the events of the day at dinner with your loved ones, or enjoy one last wine tasting experience at a wine estate on the way to your lodgings.