The Route 62 Wine Route is regarded as one of the world's best road road trips. As one of the longest wine routes known to man, this self-drive route from Cape Town is a popular adventure many local and international tourists have undertaken - now it's your turn.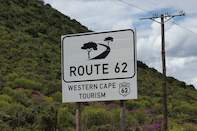 Explore the Route 62 Wine Route.
Enjoy a trip through some of the Western Cape's most beautiful towns, with award-winning wineries, restaurants and historical attractions to experience. With gorgeous natural splendour at every turn, Route 62 is a must self-drive route for every nature lover, adventurer and traveler in the Western Cape.
The Route 62 Wine Route is a remarkable trip, as it meanders through unique towns and attractions that are worth a visit. Along with an array of accommodation options, this route can be enjoyed by couples, solo travellers, friends and family looking to make the most of their South African holiday.
Loosely modelled on the famous Route 66 in the United States, the route allows tourists the opportunity to drive along serene roads set among stunning scenery, and between a selection of fascinating small towns. The route takes you through some of the country's best wine-producing regions, such as Worcester, Ashton and Robertson, with lots of natural beauty to discover.