There are a multitude of fun activities and attractions to enjoy on the Route 62 Wine Route. Whether you want to spend time in nature, connect with family, entertain the kids or sample local cuisine, this self-drive route from Cape Town has got you covered.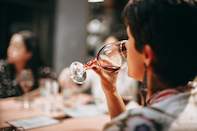 ©Helena Lopes
Wine tasting in the Cape Winelands.
Best Local Cuisine
Route 62 offers visitors a chance to sample some of the best cuisine South Africa produces. The route boasts various restaurants and bistros that aim to create flavourful dishes to enhance your experience on this self-drive route.
Kokerboom restaurant in Worcester is a family-oriented destination that serves delicious meals and award-winning wines from the area. Located in close proximity to the Karoo Desert National Botanical Garden, children have ample space to play while you enjoy a hearty breakfast or lunch.
Farm stalls along the route will allow visitors to purchase local goods such as artisanal breads, homemade jams, preserves and baked delicacies that are uniquely South African, such as koeksisters and hertzoggies.
Outdoor Activities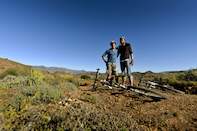 ©Jacques Marais
Mountain biking in the Tradouw Valley.
Sanbona Wildlife Reserve in Montagu has beautiful animals roaming its large reserve, including several predators. Touwsberg Nature Reserve is a quiet nature reserve that gives historical insight into the San people, who were the first people to live in the area.
The Tradouw Valley between Montagu and Barrydale offers guided quad bike tours through the spectacular valley and surroundings. The routes include a ride through the Karoo landscape where you can pick your own peaches in the orchards when in season. For the more experienced and adventurous, you can take a day trip up the mountain ridges, enjoying a picnic lunch at the top of the mountain with breathtaking views.
Kids' Activities
There are loads of great activities for the kids to enjoy on Route 62. Many wineries and restaurants have designated play areas for children, and there are a few awesome entertainment options on this self-drive route.
Bird's Paradise in Robertson hosts a plethora of birdlife from all over the globe, as well as monkeys, goats and crocodiles.It is the perfect place to take the kids to connect with nature, as the walkways in the park will take you on a pleasant journey through hundreds of Palm trees, past cages housing exotic birds, monkeys, swans, a koi pond and a restaurant, coffee and curio shop for a delicious meal.
Indoor Attractions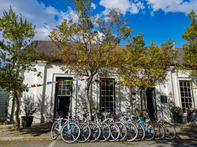 ©Chris Daly
For art lovers on the Route 62 Wine Route, there are various stops along the drive to explore art galleries and museums. Robertson Art Gallery is situated in the heart of the Breede River Valley, with original art from over 60 top South African artists. Exhibited works include the art of masters and renowned artists, as well as young and upcoming talent.
Montagu Museum comprises three elements, namely the Old Mission Church, the KWV Building Complex and Joubert House. Montagu Museum showcases the history and heritage of Montagu and, particularly, its architectural history, which is great for art appriciantionsts to explore.
The Worcester Museum is one of cultural history with a strong agricultural focus, reflected in the museum collections of Cape colonial history of wagons, furniture, textiles and agricultural tools.