The Whale Watching Route of the Cape has plenty of great things on offer - spectacular coastal scenery and mountain fynbos put on a fine show, but the stars of this self-drive route from Cape Town are the southern right whales that, between June and November each year, swap their chilly Antarctic feeding grounds for our warmer, protected bays where they mate, calve, breach and lobtail, sometimes just metres from the shore.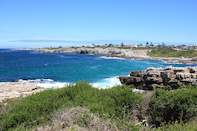 Hermanus is one of the country's best towns for whale watching.
It's hard to imagine 60 tons of solid matter frolicking, but that's certainly what it looks like. Of course, experts have various theories, but we think they do it... well, because they can. This South African holiday route hugs the coast through the most crowded parts of this giant whale nursery, where in season you can see up to 20 at play at a time.
You'll visit gorgeous seaside towns such as Gordon's Bay to Hermanus, Arniston and L'Agulhas, the southernmost tip of the African continent.
This is a weekend route, but if you have the time, give yourself an extra night or two in Hermanus, especially if you want to do any boat trips or go diving with sharks, or opt for gentle indulgences like some wine tasting.