Southern Right Whales
Unlike humpback and Bryde's whales, southern rights have no dorsal fin, and unless they're performing, they look more like hippos than whales. Recognise them by their callosities, those rough, whitish raised patches dotted around their heads.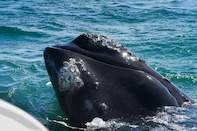 Hope for a calm, windless day, when whales tend to come closest to shore (although they're often more lazy then too). Blows are usually the first things you see. Whales are particularly obliging when breaching, as they tend to do it several times, allowing you to set up your camera!
June to November is prime whale season, with calving in August and September, and whale numbers peaking in October. Spring in September and October turns the countryside into a spectacular kaleidoscope of floral colour.
Watersports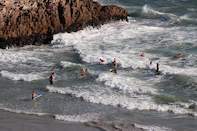 Swimming at Hermanus.
This seaside self-drive route goes along the eastern coastline of the Cape, which offers numerous opportunities to enjoy watersports such as swimming, kayaking, surfing and stand-up paddle boarding.
Betty's Bay is well-known for its surfing opportunities, and Hermanus has wonderful beaches that are perfect for swimming, sunbathing and leisurely strolls along the ocean. Arniston has good fishing spots, and avid surfers can catch a wave or two at Gordon's Bay.
Eat and Sleep
The Cape whale watching route is not only great for nature enthusiasts, but foodies will be delighted to know that the self-drive route stops at various great restaurants, bistros and coffee shops renowned for their delicious cuisine. The area is also famous for its wine estates and breweries, and guests are invited to source some of the country's best wine and beer on location.
There are awesome accommodation options available on this route, and ranges from seaside rentals to luxury guesthouses, hotels and charming B&Bs. Suited to all pockets, you'll find that these coastal towns cater to couples, families and solo travellers alike.