Scenic drive via Gordon's Bay and the Harold Porter National Botanical Garden to Hermanus, and lunch while watching whale aquabatics in Walker Bay with an overnight stay in Hermanus.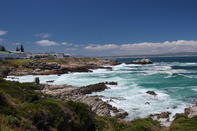 ©Ann Gadd
Hermanus is a spectacular seaside town with lots to charm.
Waterfront to Betty's Bay
From the Waterfront, turn left onto the highway following N1 Paarl then N2 Somerset West. At just over 40 km, take Exit 43 Somerset West, Broadway Boulevard, Stellenbosch and turn right at the traffic lights onto R44.
At the third set of lights turn right into Beach Road to Strand Beachfront. Turn right at the circle, right again at the traffic light (50 km) onto R44, Gordon's Bay road. When the road splits at about 53 km and forks right to Faure Street, follow the sign Bikini Beach. Follow Gordon's Bay Beachfront, T-junction right (R44), and watch False Bay unfold before you.
A warm water whale route could start in Muizenberg, following the coast road all along the curve of False Bay, but for those lacking the time, remember there's really good stuff ahead, so brave the freeway frenzy to fast-track to the Strand, Gordon's Bay and the scenic Clarence Drive. From Gordon's Bay, the Hottentots Holland mountains almost trip over this serpentine road as they tumble into the sea.
Across False Bay you can see the spiny ridge of the Table Mountain chain snaking all the way to Cape Point in the far distance, and here's where you can start whale-watching in earnest - in season there's a good chance of seeing a whale or two lazing in the sea below.
Betty's Bay straggles along for several kilometres, in the middle of which you'll come upon the Harold Porter National Botanical Garden, a great, fynbos-filled place to take a break (entrance fee charged). There's a tearoom, a souvenir shop, a great indigenous nursery and a plant information centre. The beautiful gardens have several walks which meander among the waterfalls and pools that form a chain down to the sea.
Betty's Bay to Hermanus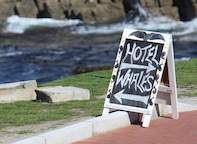 ©Ann Gadd
This self-drive route is renowned for its beautiful accommodation and of course, whale watching.
Continue along the R44, passing Kleinmond at about 99 km. At the T-junction turn right on the R43 to Hermanus. Pass Fisherhaven, Hawston, Vermont, Onrus River. Enter Hermanus at about 132 km. At 135 km, you're forced left at the traffic lights. Turn next right into Market Street, right again into Kusweg and park on Market Square.
Hermanus is the self-styled centre of the whale-watching universe, tucked into the most protected corner of Walker Bay, which has been recognised by the WWF as one of the world's top 12 whale-viewing sites.
The town has a fun - if busy - buzz, especially in season, and you'll almost always find the rocks thronged with people staring out to sea, not daring to blink in case they miss a breach. You can also get up close and personal. These marine giants sometimes come within 10 metres of the shore, so haul out your binoculars and get a front row seat. If you're hungry by now you can whale-watch over your plate of seafood at several sea-view restaurants on Market Square overlooking the Old Harbour.
Sit outdoors at The Burgundy or walk a couple of hundred metres further, with the sea on your right, and then down some stairs to Bientang's Cave, a restaurant built in a cave, once home to a Strandloper, immediately above the rocks and waves.
Spend the afternoon watching whale aquabatics, wandering around town or doing some of this good stuff: Hit the water and go whale-watching by boat. Try Southern Right Charters on Miroshga, a slick speed boat with modern amenities which zips along the coast to where the whales are, or there's Hermanus Whale Cruises, in an authentic fishing boat. More info on other operators available from the tourism bureau.
The R320 becomes gravel after 10 km, and reaches Caledon on the N2 at 38 kilometres. Do the coastal Cliff Path walk, whale-watching all the way from the New Harbour past town to Grotto Beach.
Fernkloof Nature Reserve packs over 1 100 species of coastal mountain fynbos into its 15 square kilometres (the entire United Kingdom has 1 500 species), including rare and unusual plants of international scientific interest. There are over 50 kilometres of graded paths and trails, amid beautiful fynbos and ericas, an indigenous plant nursery and a mountain bike trail.
Take an Ubuntu Cultural Tour through Zwelihle township with the whale crier, Wilson Salukazana, for a taste of African hospitality, shopping at a spaza and downing a quick ale in a local shebeen. Grotto Beach, Voëlklip and Kammabaai, all in the direction of Stanford, are great beaches for soaking up the sun. De Wet's Huis Photo Museum on the square, is filled with old images of Hermanus, while the Old Harbour Museum, depicting the history of fishing and whaling in the area, is across the road at the water's edge.
Don't forget to ask the tourism bureau about fishing as well as fly-fishing, scuba diving, boating, kayaking, 4x4 routes, paragliding and hiking the stunning five-day Whale Trail through De Hoop Nature Reserve.
Overnighting in Hermanus is a great way to end off the first day off this self-drive route. Choose between luxury guesthouses, cottages and comfortable B&Bs or seaside rentals.