Flower season in the Cape is something magical to behold - wild flowers all around the Cape burst into a rainbow blanket bloom of yellow, pink, orange and white. Experience the beauty of spring wild flowers on The Cape Flower Season Route.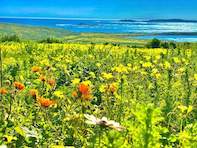 Flower season in the Cape is a spectacular rainbow of wildflowers on the West Coast.
Nature enthusiasts are in for a treat on this 4-day self-drive route from Cape Town along the West Coast, with stops at the West Coast National Park, Langebaan, the quaint fishing village of Paternoster and the town of Darling.
The peak of flower season on the Cape West Coast is from early August to late September.
Other than flower spotting, the West Coast is well-known for its outdoor activities, historical attractions and charming accommodations. With gorgeous natural splendour on offer and friendly locals to make, the Cape Flower Season Route is a must-see destination for all.
This self-drive route from Cape Town can be completed in one weekend, especially out of flower season. Visit either the West Coast National Park or the Fossil Park on Saturday morning, lunch at Die Strandloper, then overnight in Paternoster. Grab a show in Darling on Sunday and head back for a leisurely dinner in Blouberg.