The Cape Flower Season Route is home to many wonderful activities and attractions that are sure to entertain the whole family. With more than just sea and flowers to see on this self-drive route from Cape Town, you'll want to explore the West Coast's fine restaurants, hiking trails, nature reserves, beaches and recreational areas.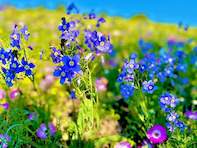 Flowers of the West Coast.
West Coast Nature Reserves
Nature enthusiasts can stop by the Rondeberg Private Nature Reserve, which is located in the Swartland area on the West Coast, and boasts gorgeous nature walks for those wanting to see the fauna and flora of the reserve up close.
The West Coast National Park is another great stop, just inland from the secluded harbour of Saldanha Bay. The park offers guests the chance to enjoy a range of activities, such as mountain biking, hiking, bird watching and flower spotting, which can be followed by a delicious picnic lunch.
The Cape Columbine Nature Reserve in Paternoster is another reserve worth a visit for its spectacular ocean and veld views. The nearby lighthouse is open for guests to explore and see the beautiful coastline of the West Coast.
Watersports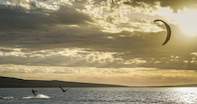 ©Jacques Marais
Langebaan is a great destination for watersports on the West Coast.
Guests in search of water-based activities can extend their stay in Langebaan and enjoy some kayaking on the lagoon, or stand-up paddle boarding, kite surfing, sailing or for the brave, swimming in cold water of the Atlantic ocean.
Paternoster is home to Tietiesbaai, which is a popular destination for beachgoers. You can enjoy kayaking and stand-up paddle boarding in the bay, as well as sunbathing with a good book.
Eat and Sleep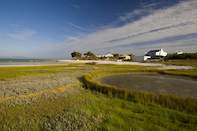 ©Justin Fox
The West Coast host beautiful seaside cottages, guesthouses and B&Bs open to tourists on this self-drive route.
The West Coast is renowned for its plethora of restaurants known for amazing offerings of fresh seafood and other local cuisine. Whether you're having a hearty breakfast, enjoy a scrumptious lunch or a tasty sundowner at one of this self-drive route's aforementioned restaurants, know that you'll be in for a treat, which great hospitality and of course, delicious food.
Accommodation on the West Coast ranges from seaside cottages, to intimate guesthouse, B&B's, camping grounds and ocean apartment rentals, all varied to suit your pocket. Langebaan, Paternoster and St Helena Bay are wonderful places to stay overnight on the Cape Flower Season Route, as you'll have comfortable lodging options ideal for couples, families and solo travellers alike.
Before you Go
Veld walks at Rondeberg Private Nature Reserve need to be booked in advance.The Cape Columbine lighthouse is only open for tours on weekdays. Groote Post wine estate is closed on Sundays.
Be sure to book for Tannie Evita's show in Darling. This would mean that you'll miss lunch at Groote Post but you can visit the wine estate on Day One instead. Phone to book ahead for lunch at Die Strandloper restaurant in Langebaan.