The Cape Winelands is a renowned region of the Cape that produces most of South Africa's wine. Wine lovers will enjoy the pleasure of spending a day or two meandering around the Cape Winelands, sampling wines that are among the finest in the world. What is tricky is choosing where to go, given that there are well over 100 wine estates in the Stellenbosch and Franschhoek areas alone.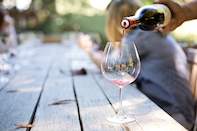 Enjoy a glass of wine in the Cape Winelands.
This self-drive route from Cape Town features a selection of wine estates around the Cape Winelands, from hi-tech to historic, from huge to homely, that mix some of the grandes dames for first-timers on a South African holiday, with one or two little-known boutique estates for those who've done it all before. And they're kid-friendly too.
This Cape Winelands route can be done as two separate days, or rolled together into one trip. It includes an intoxicating meander through a fine selection of award-winning wine estates in Stellenbosch and Franschhoek.
Spend Day One in Stellenbosch, South Africa's most famous wine region, then cross the Helshoogte Pass to Franschhoek, the 'French corner' that the Huguenot vignerons made their home. Day Two consists of a visit to Stony Brook, as well as a wine tour at Cabrière with Achim von Arnim. Lunch (and wine) is at Môreson or Chamonix, and afternoon tea at Boschendal.