Although the Cape Winelands is renowned for its great food and wine, the region also has a number of fun outdoor activities for visitors to enjoy on this Meandering Around the Cape Winelands self-drive route from Cape Town.
©Chris Daly
Vineyards in the Cape Winelands.
Families, couples and solo travellers alike will find a few fantastic spots around Stellenbosch and Franschhoek to sightsee the natural splendour of the area, as well as enjoy mountain biking, hiking, child-friendly attractions and delicious cuisine.
Mountain Biking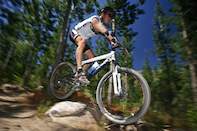 ©Jacques Marais
Mountain biking in Stellenbosch.
Cycling adventures are extra special in the Cape Winelands, thanks to the many different terrain types and the gorgeous vistas that each one affords.
Stellenbosch is home to various mountain biking trails through stunning vineyards, hillside venues and beautiful flora. With routes suited to both novices and expert riders, you'll have your pick on trails to explore.
For mountain bikers that are more experienced, rides in the surrounding mountain ranges of Franschhoek are a super way to experience the very best of the Cape Winelands. There are a number of challenging single-track trails through the fynbos, with stunning views of the river below and the craggy mountains all around. It takes two to three hours and includes tricky areas of loose sand and rock, narrow paths, and some steep hills.
Hiking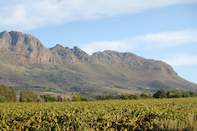 Breathtaking view of the Cape Winelands.
Amongst the many wine estates of the Cape Winelands lies various nature reserves and natural areas with hiking routes and walking trails for visitors to enjoy. Bottelary Hills Renosterveld Conservancy in Stellenbosch has a great variety of trails, and there is sure to be one that suits your abilities and need.
Dutoitskop Trail runs through the Franschhoek Pass and offers a diverse experience of flora and fauna, including indigenous fynbos, proteas, pincushions, restios, ericas and bulbs.
Kids' Activities
It may be a world-class wine destination, but the family activities in the Cape Winelands are also second to none. Various wine estates on this self-drive route are child-friendly, with play areas and activities to keep them busy while you enjoy a wine tasting. There are also picnic lunches available, with gorgeous views of the winelands.
A great family activity in Stellenbosch is a horseback trail at Pete's Adventure Farm, where you'll encounter a wildlife sanctuary that's home to zebra, springbok, eland, kudu, giraffe, wildebeest and plenty of other wildlife. Strawberry picking in Stellenbosch is also a popular activity, as well as family markets at certain wine estates.
Mont Rochelle in Franschhoek offers kids activities such as grape stomping, grape juice tastings, lawn games, scavenger hunts and cooking and baking lessons.
Eating out in Franschhoek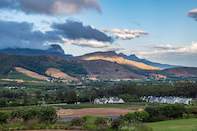 ©Chris Daly
View of Haute Cabrière estate.
Franschhoek's restaurants frequently appear among the top 10 in the country, with gastronomic heights regularly reached by Le Quartier Français (voted among top 50 in the world), Bijoux, Monneaux, Haute Cabrière Cellar Restaurant among many more. Indulge - you won't be disappointed at all. Or simply stroll along Huguenot Road, the town's main street, and take your pick from restaurants that spill out onto the pavement. Look out for the fromagerie and a Belgian chocolatier.
Before you Go
Sundays aren't good to tour the winelands, as most estates close for the weekend at lunchtime on Saturday. Of the estates listed here, only Spier in Stellenbosch and Chamonix and Môreson in Franschhoek are open on Sundays, with Boschendal joining them between November and April: Take some cash, as most estates charge a nominal fee for the tastings. Cellar tours must be booked a day or two in advance.
Make sure you include a non-drinker or someone prepared to spit in your party to do the driving. The legal limit is 0,05g alcohol per 100 ml blood, which in real terms means that after one to two glasses of wine you can't get behind the wheel. Your body can process about one glass per hour.