Clifton 4th Beach
The white sand of Clifton Beach is usually filled with beautiful Capetonians and foreigners alike all through the summer months. On calm days, yachts and sailboats can be seen lazily drifting along the water, soaking up sun or braaing freshly caught Cape Rock Lobster.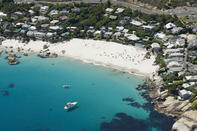 ©Jean Tresfon
Clifton 4th Beach, Cape Town.
Clifton 4th Beach is quite family-orientated, so a fun family outing in summer is to be had at the beach. Bring along your frisbee, volleyball or sandcastle building gear. Whether you are looking to cool off in the icy waves, have an active beach day or simply catch a tan, Clifton 4th Beach is an idyllic spot to lay down your blanket, grab your book, or bodyboard, and enjoy time well spent.
Boulders Beach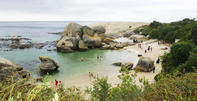 ©Ann Gadd
Boulders Beach, Cape Town.
Boulders Beach in Simonstown is the ultimate tourist attraction - it is home to a protected colony of African Penguins which can be viewed in their natural habitat via wooden walkways. The entrance fee to the beach goes towards the conservation of the penguins.
The beach is great for a quiet, leisurely picnic as it is rarely packed due to the entrance fee. The beach is sheltered from wind so the water is a bit warmer than other Cape Town Beaches. It's thus a great swimming-spot, ideal for children to discover rock pools, build sandcastles and learn about the furry little creatures that waddle along the shoreline.
Muizenberg Beach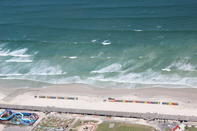 ©Ann Gadd
Muizenberg Beach, Cape Town.
Muizenberg is a beach town just outside of the City, making it a largely untapped tourist spot. It is home to a large surfer community and all-round 'chill' people who prefer a relaxed atmosphere in contrast to the hustle and bustle of Cape Town. Muizenberg Beach is a beautiful spot to relax with a book, walk your dog or work on your tan.
The brightly colored huts that line the beach expresses the personality of the area - it's a fun, family-friendly and offers excellent activities, including surfing lessons, adjacent kiosks, a swimming pool and a putt-putt course. You'll also come across an array of surfing activities - there are surfing and bodyboarding lessons available, and you'll spot a large amount of surfers riding the pristine waves. Muizenberg Beach is great for a leisure or active day, and is dog-friendly.
Big Bay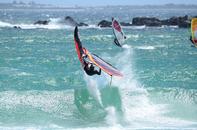 ©Karl Svendsen
Big Bay, Cape Town.
The Table Bay coastline is dotted with beautiful beaches that are frequented by locals for surfing, beach activities or just relaxation. The Big Bay Beach is great for a hot summer's day - a quick dip in the frigid waters will cool you off before you soak up some sunshine in a game of beach volleyball. It is also a great surfing spot, with various surfing competitions and events held there every year.
Kitesurfing, SUP and bodyboarding are also very popular. The beach is adjacent to the Eden on the Bay Mall, so you have direct access to top-class restaurants and shops.
Bakoven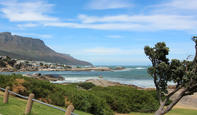 ©Ann Gadd
Bakoven Beach, just passed Camps Bay in Cape Town.
Bakoven a spectacular little spot with idyllic views and a splendid beach. It is just past Camps Bay and is known for its quiet splendour. The beach at Bakoven is small and the locals are quite protective of it, but the mix of large boulders, shelter of wind and pristine shoreline views makes it a well-hidden gem. Enjoy sundowners or leisure day on the beach and drink in the gorgeous view of Lion's Head.